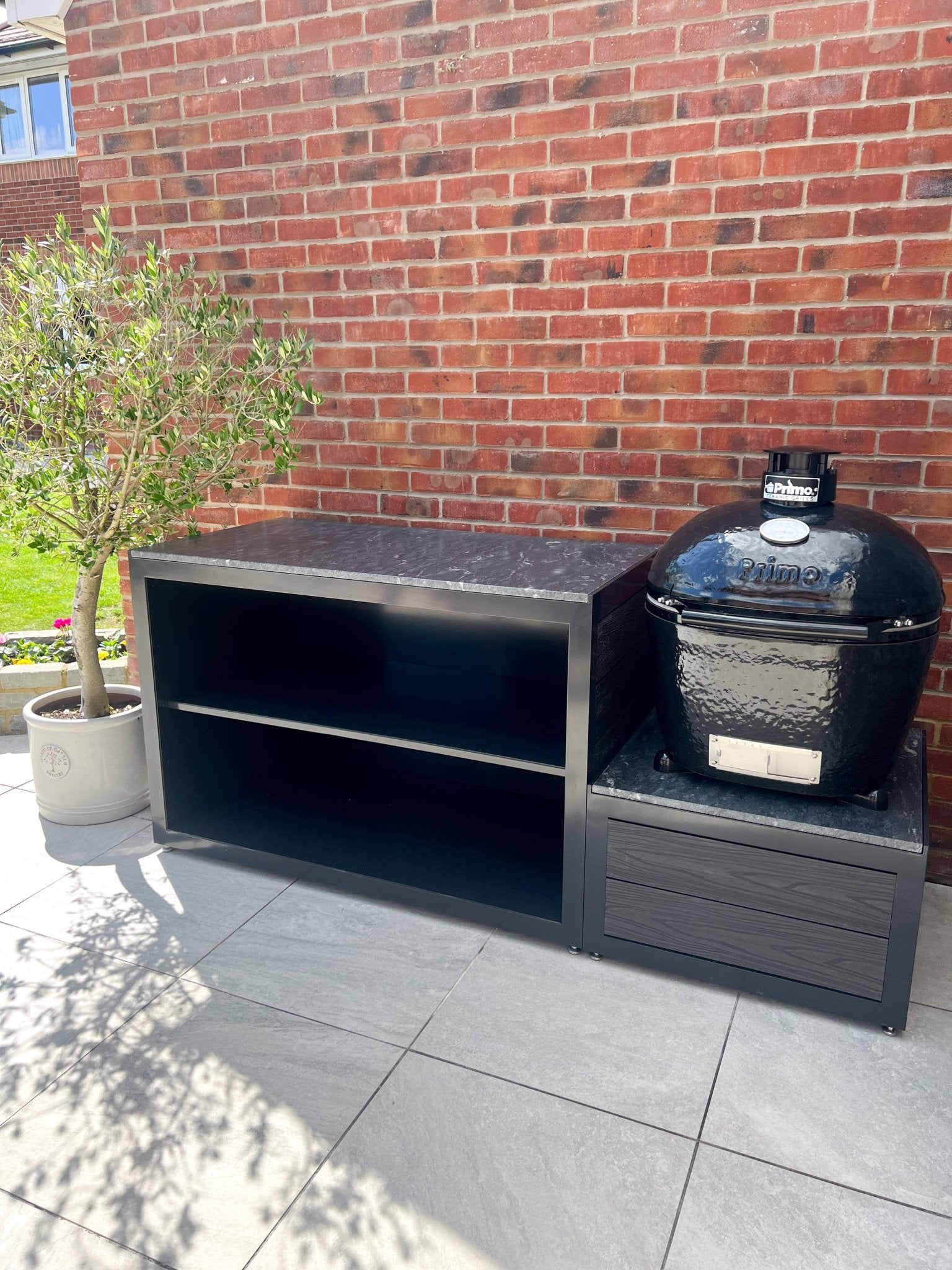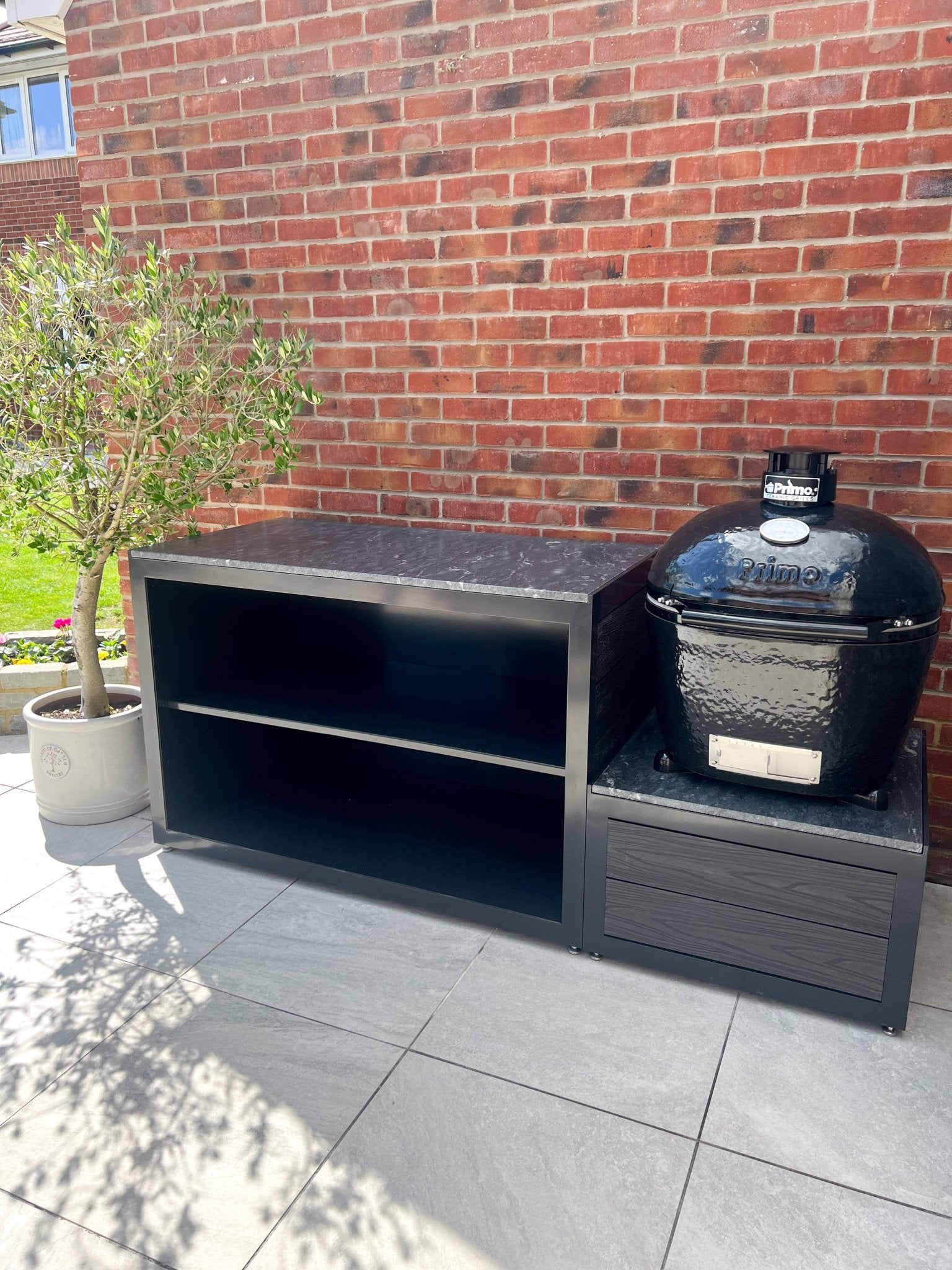 Made in Britain
Redefining the modular outdoor kitchen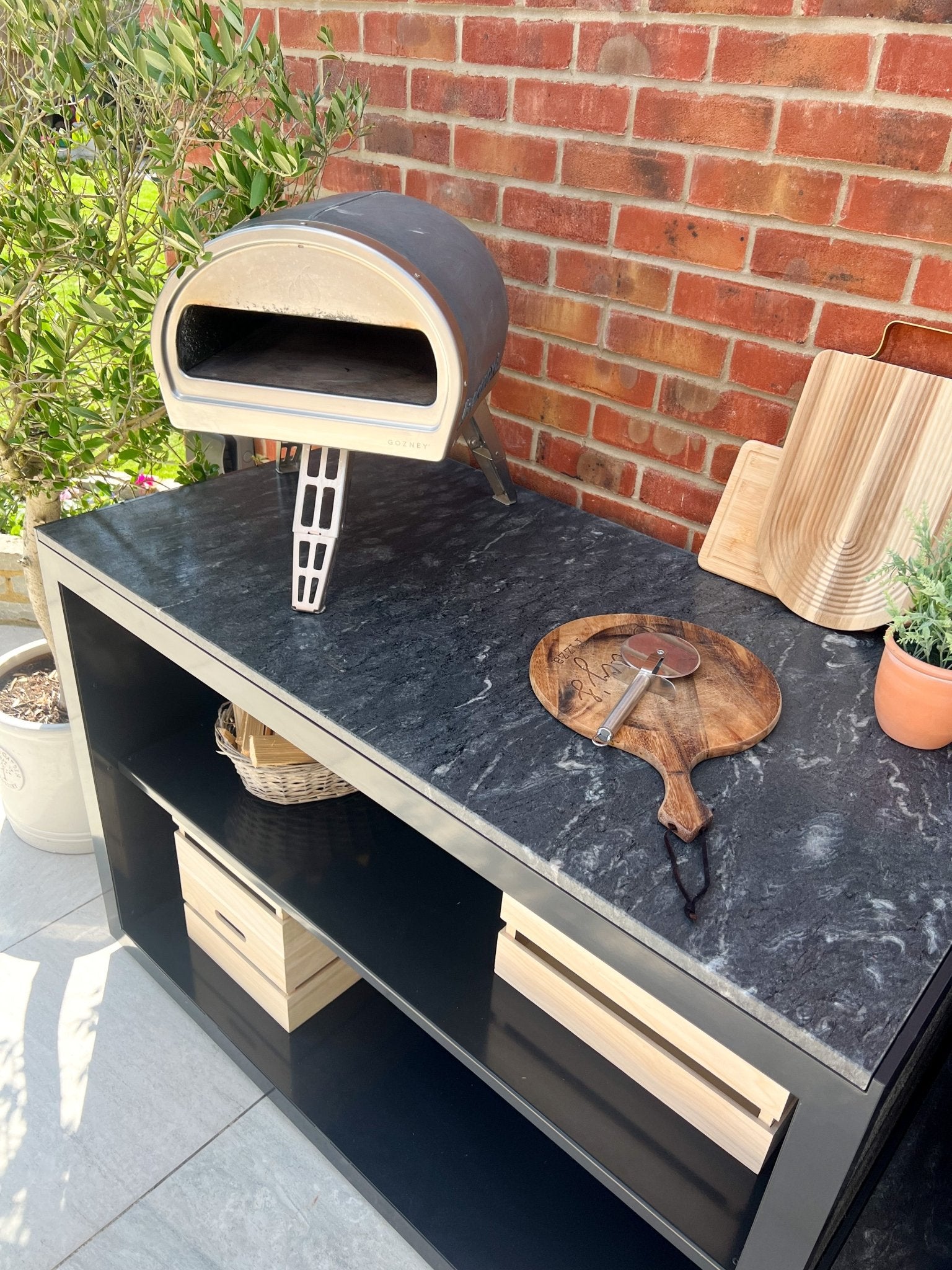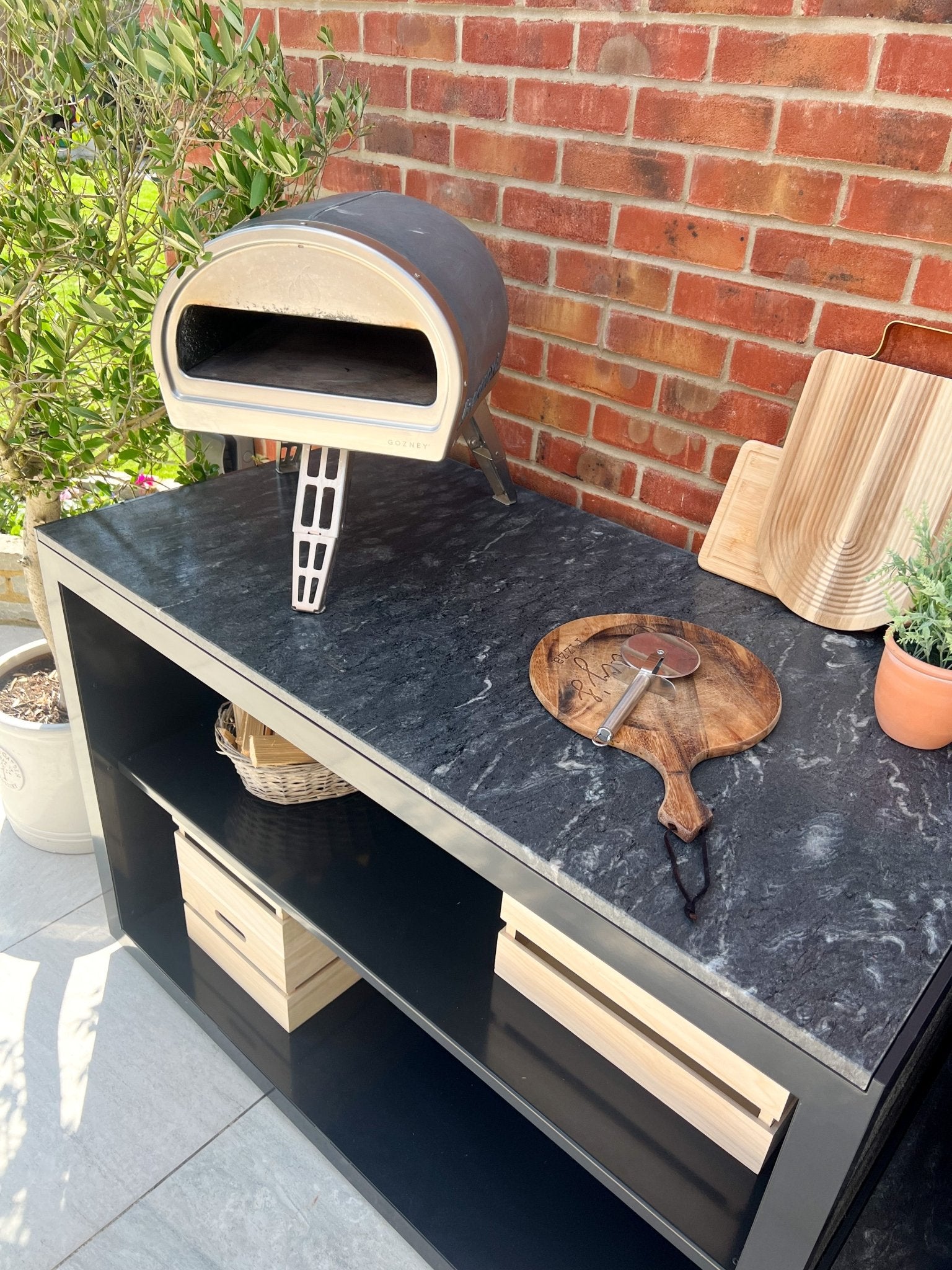 Made from durable, rust-proof aluminium
Maintenance Free Outdoor Kitchens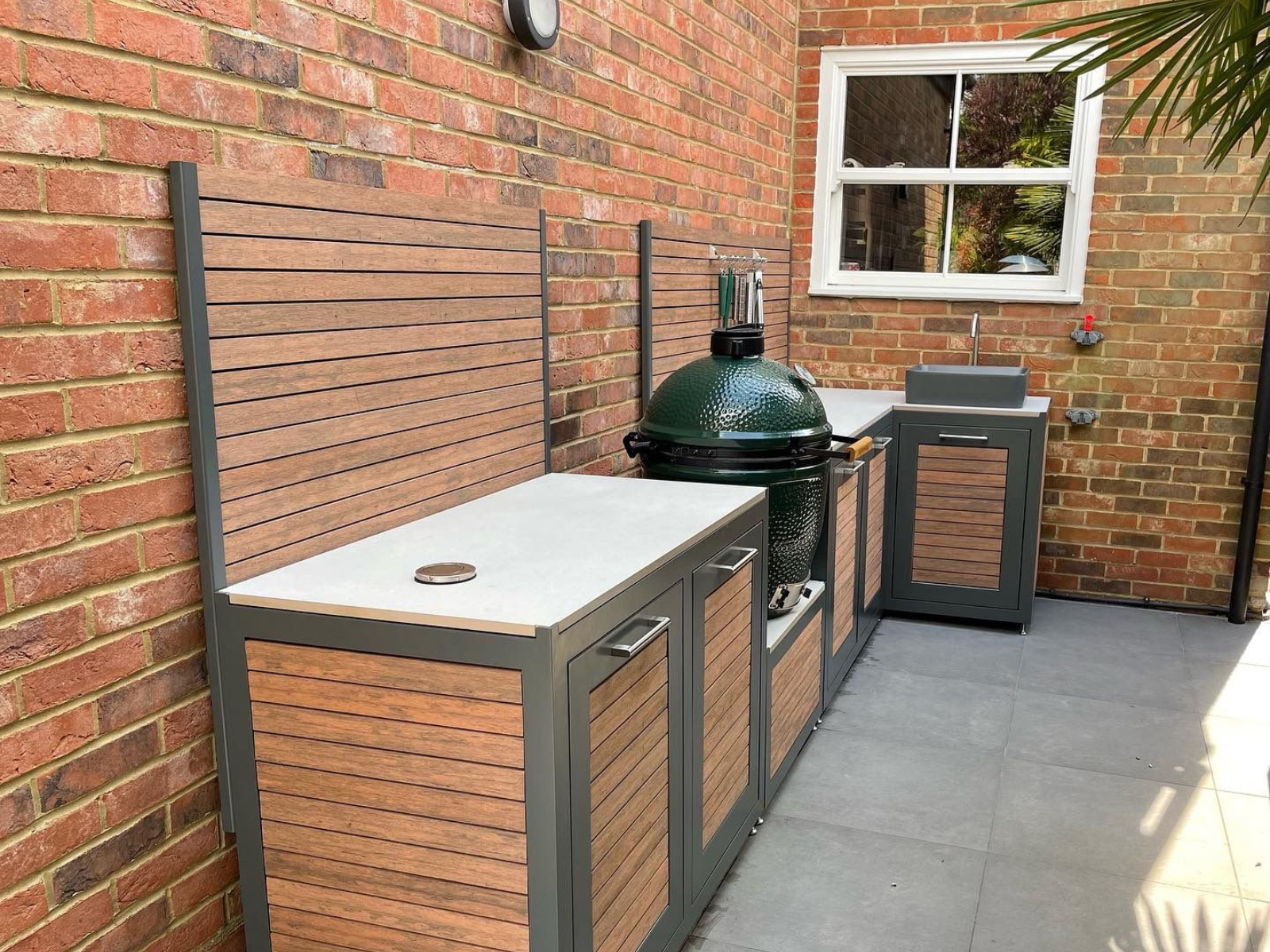 Made in Britain
Fully Bespoke Outdoor Kitchens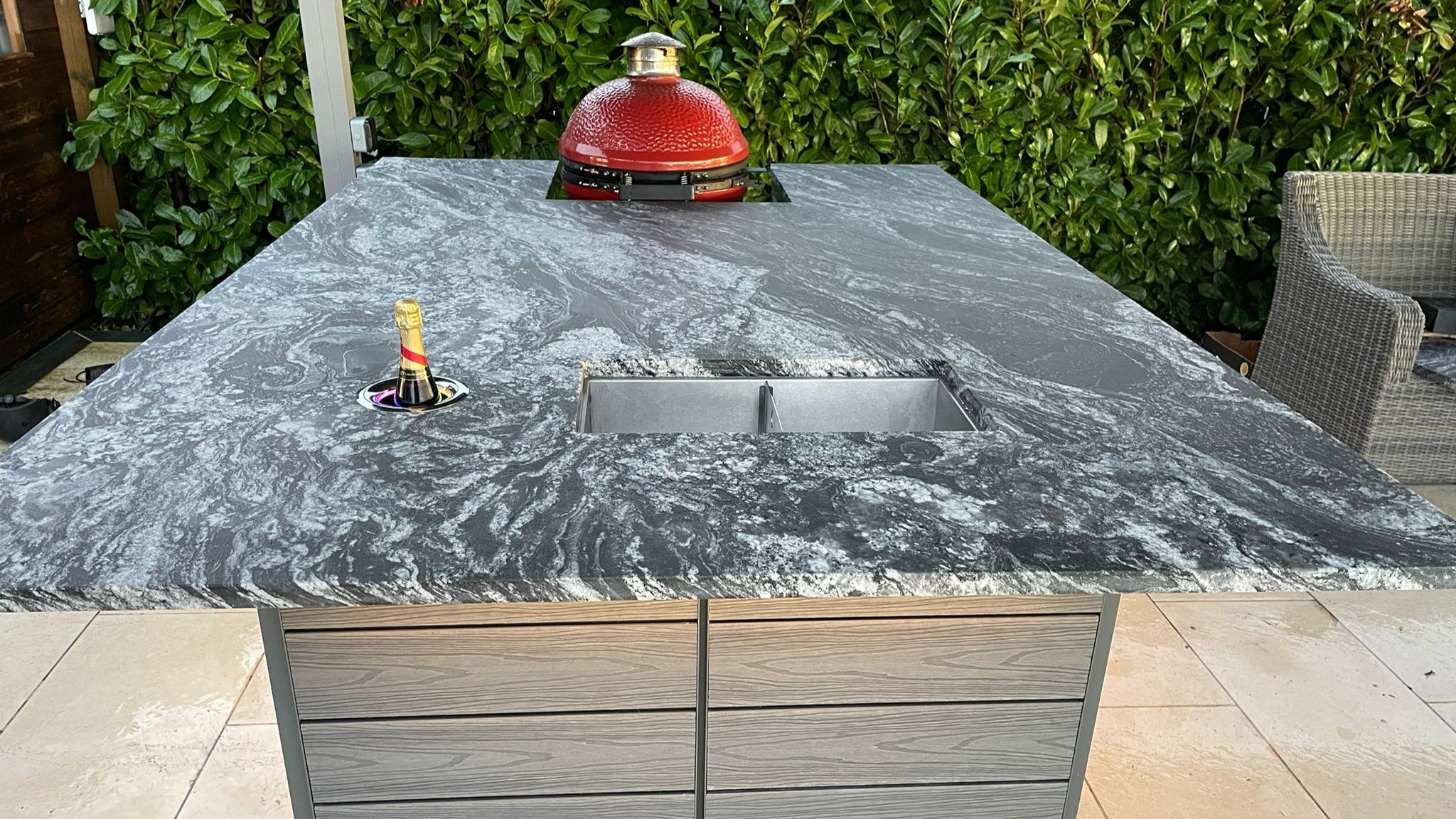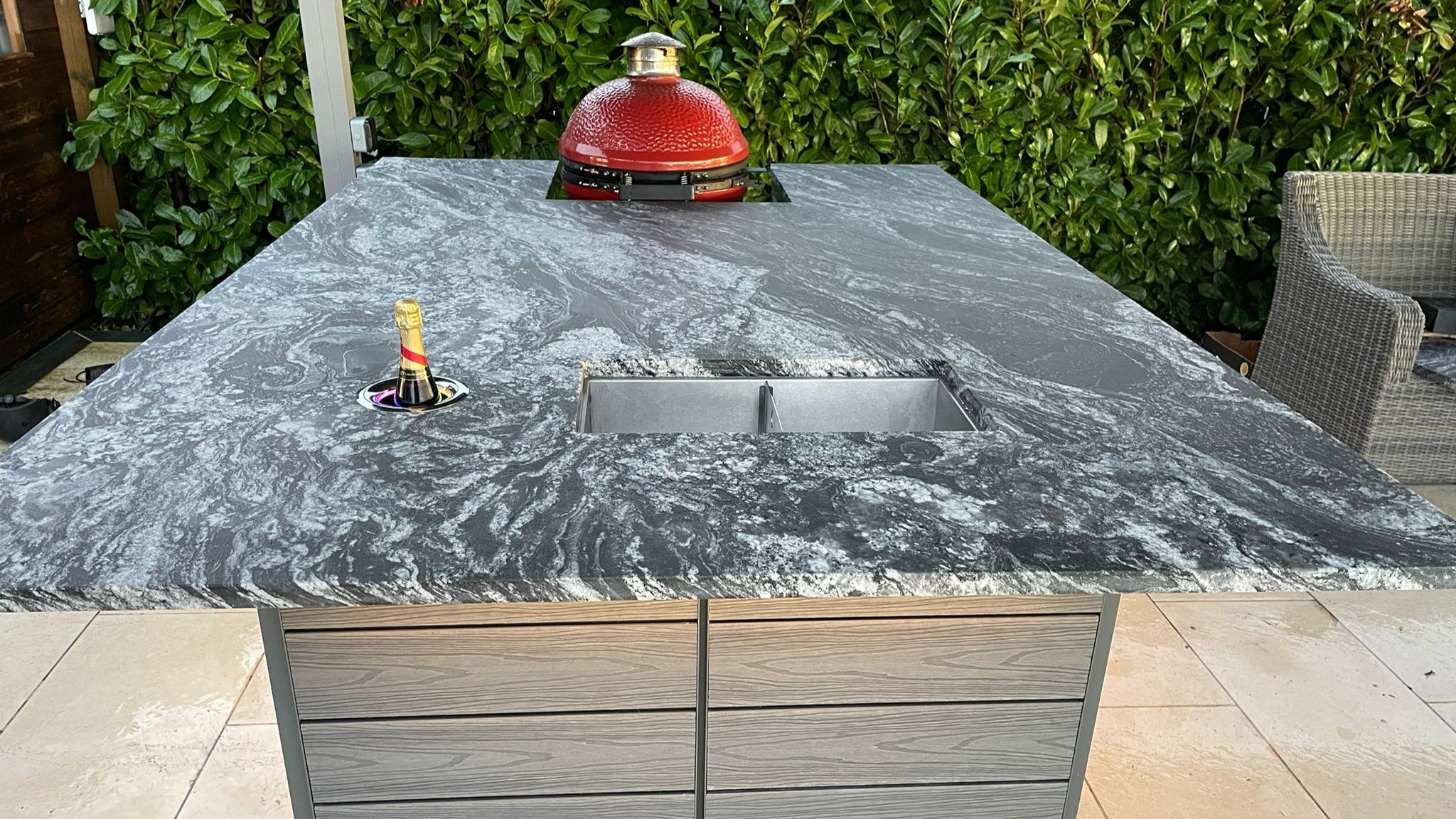 Made in Britain
Hand-Built, Customised Outdoor Kitchens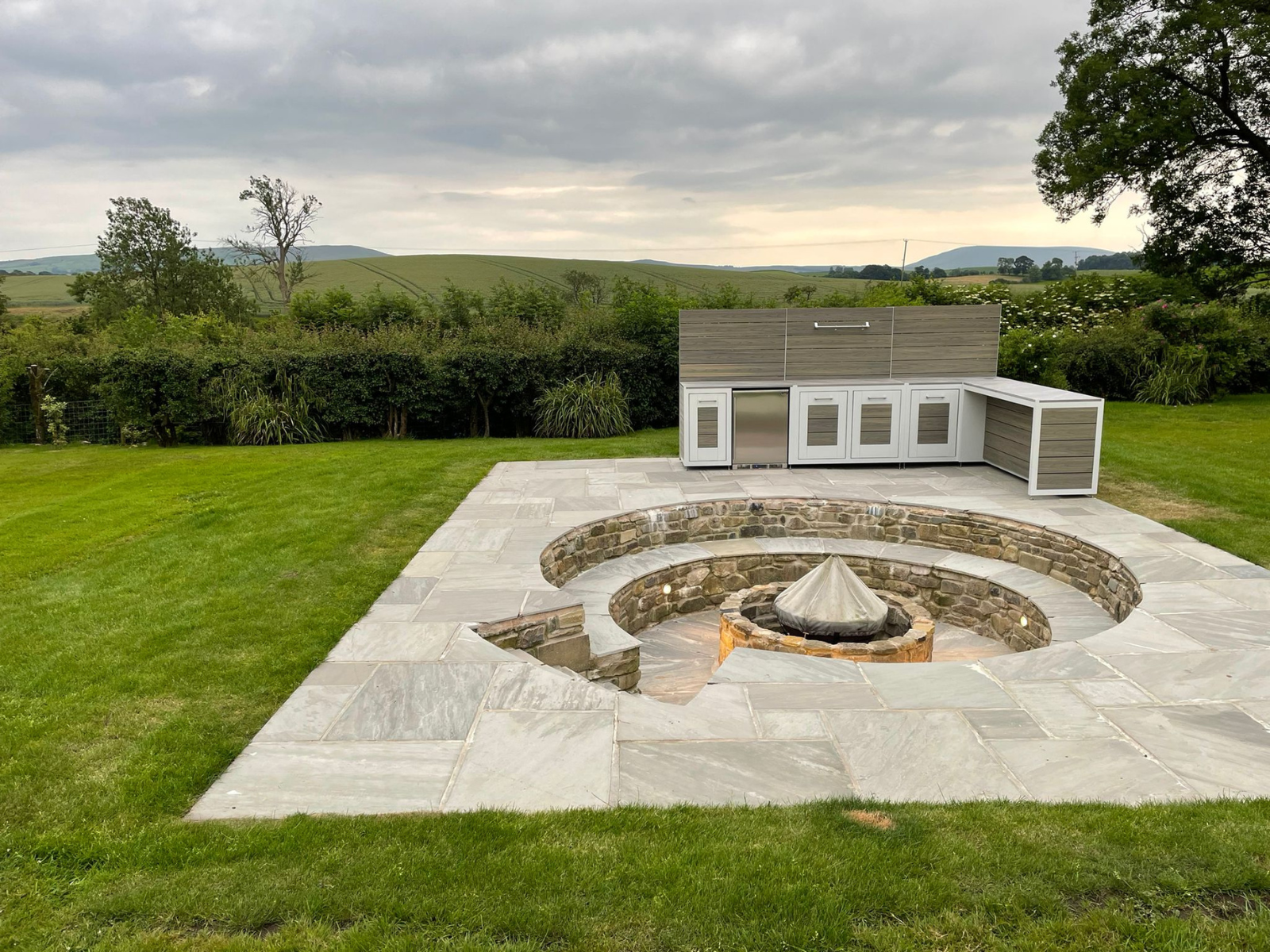 Made in Britain
Hand-Built, Customised Outdoor Kitchens
I am so pleased with our kitchen, Paul and the team were professional, friendly and patient with my ever changing ideas!
We've had our kitchen for over a year now and it's still perfect. Couldn't be happier with it
Outdoor living made easy with our maintenance free outdoor kitchens
Choose from our modular design, or our fully bespoke service
Our Designs
View all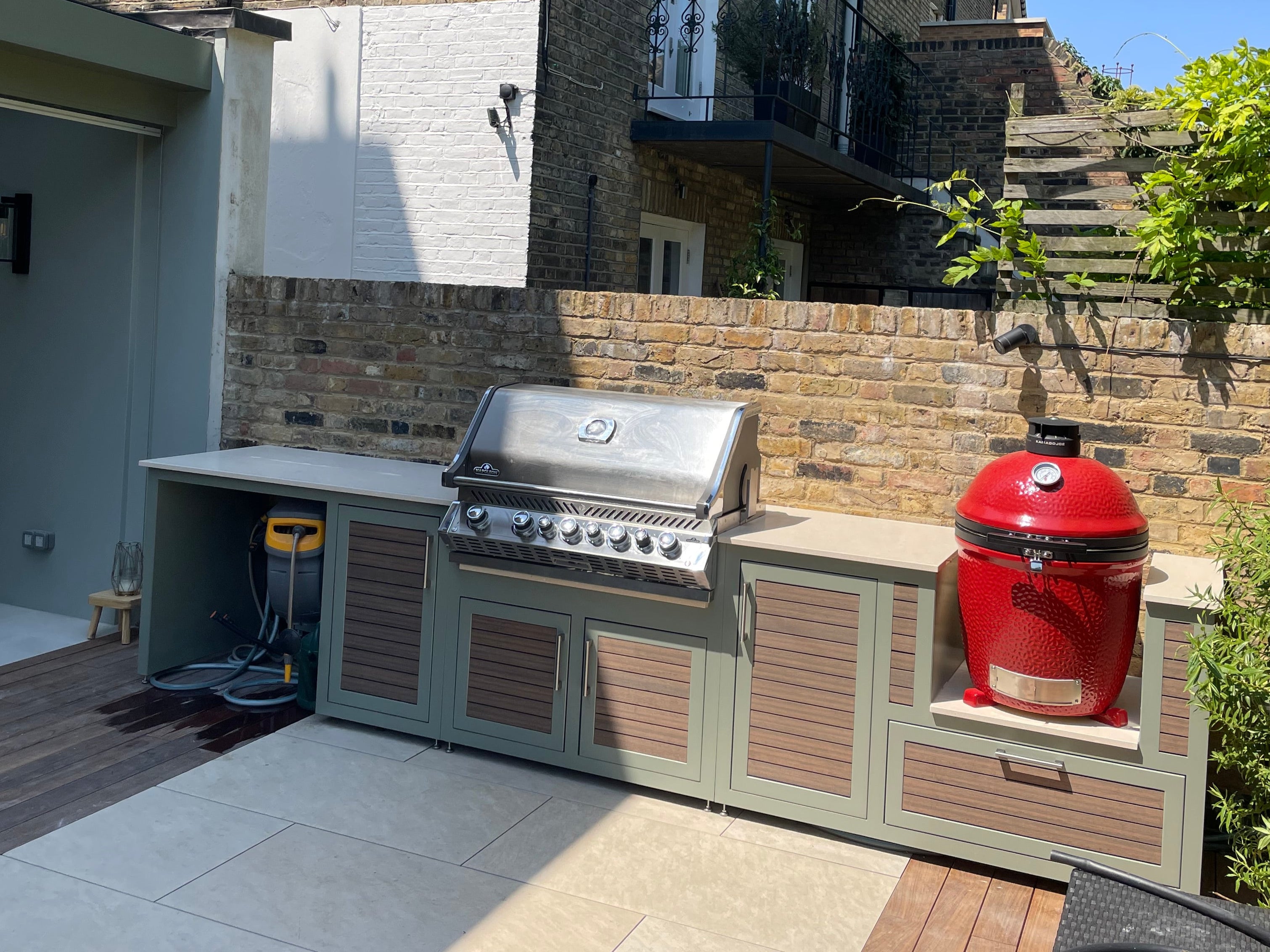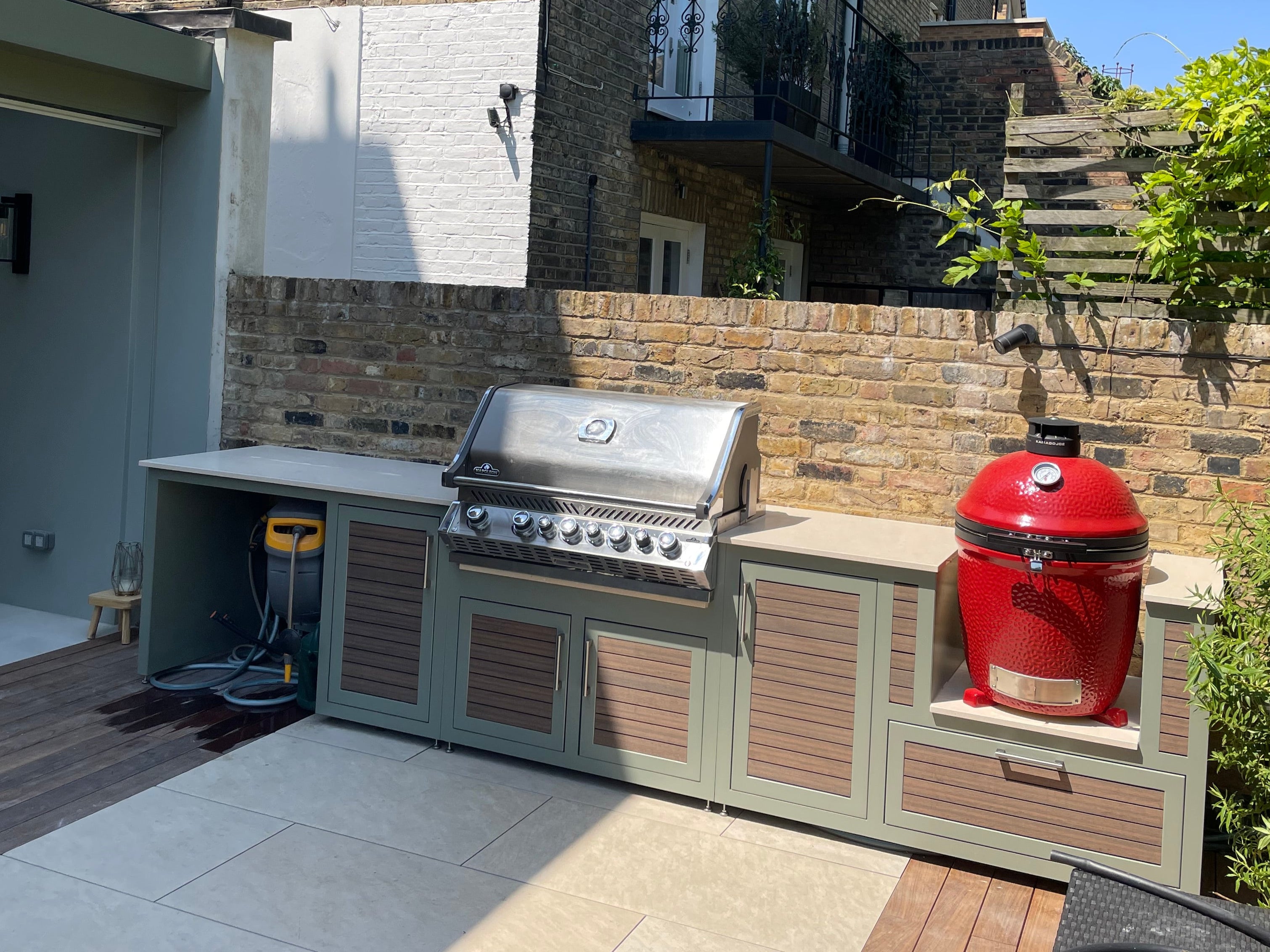 Beautiful - Sleek - Weatherproof - Functional
Beauty meets functionality
An outdoor kitchen brings your garden to life, creating a space to entertain, cook, relax and eat together. At The Outdoor Kitchen Company we combine the ultimate functionality with a beautifully designed kitchen. Not only will it look good, but it'll need no maintenance, is weatherproof and we have an endless range of customisation options so that it'll be truly unique to your garden and will be perfect for your space and needs.
About Us
Made in Britain, built by hand, The Outdoor Kitchen Company designs and creates beautiful kitchens for your garden. Based in Hertfordshire, The Outdoor Kitchen Company collides beauty, with functionality. We've built our kitchens to last, through the British weather, our kitchens are weatherproof and rust proof.
We also work with small businesses where possible to provide the highest quality supplies and materials.
Learn More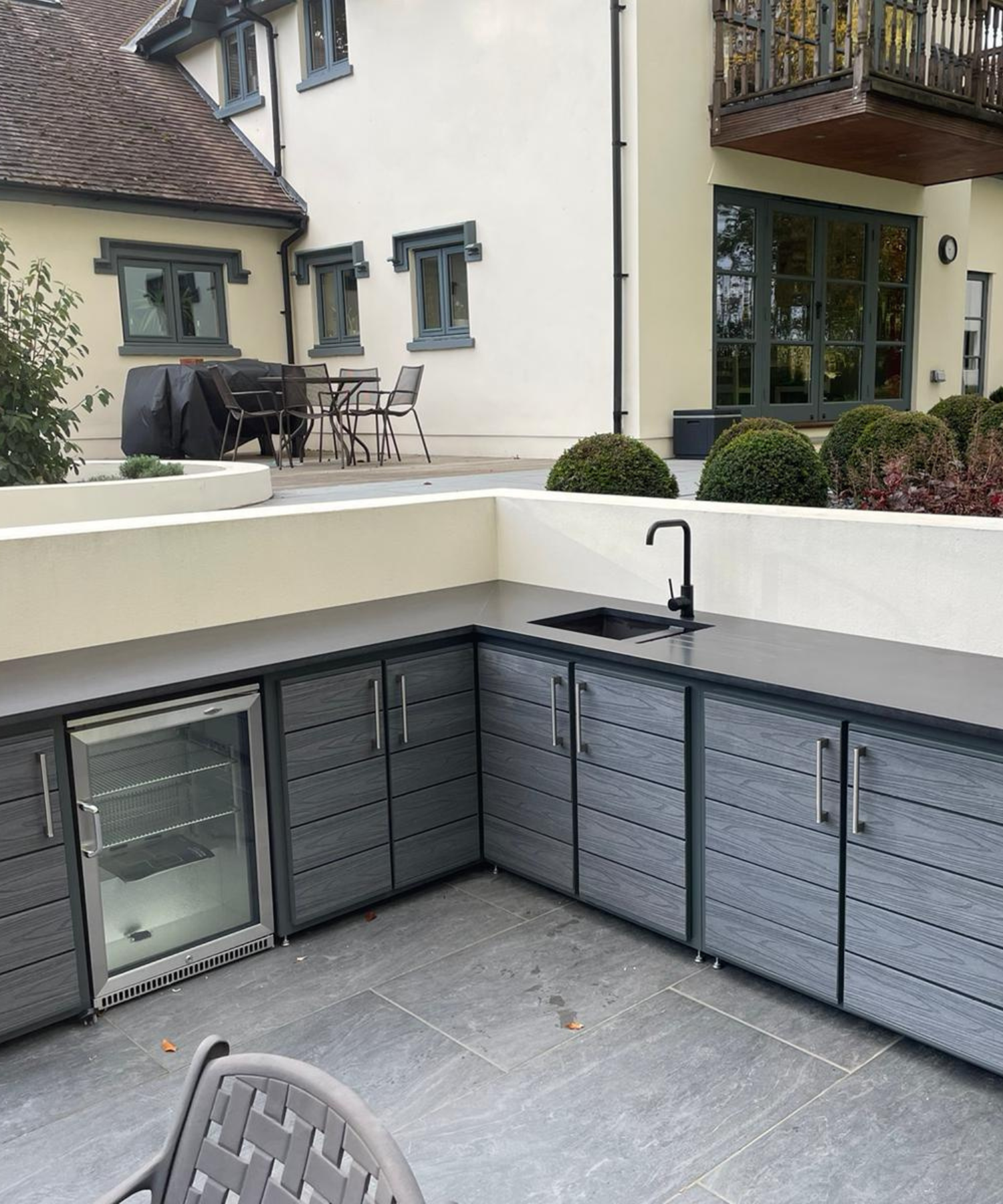 Take a closer look...
Explore one of our latest projects with us, consisting of a corner layout with integrated shelving, bin unit and under mount sink. It even has an integrated plug in the worktop. Finished with slate panelling and Zimbabwe black worktop.
The Build
Take a look at the frame before it's powdercoated and the finished product. Our kitchens are made from extruded Aluminium, making them weatherproof and hardwearing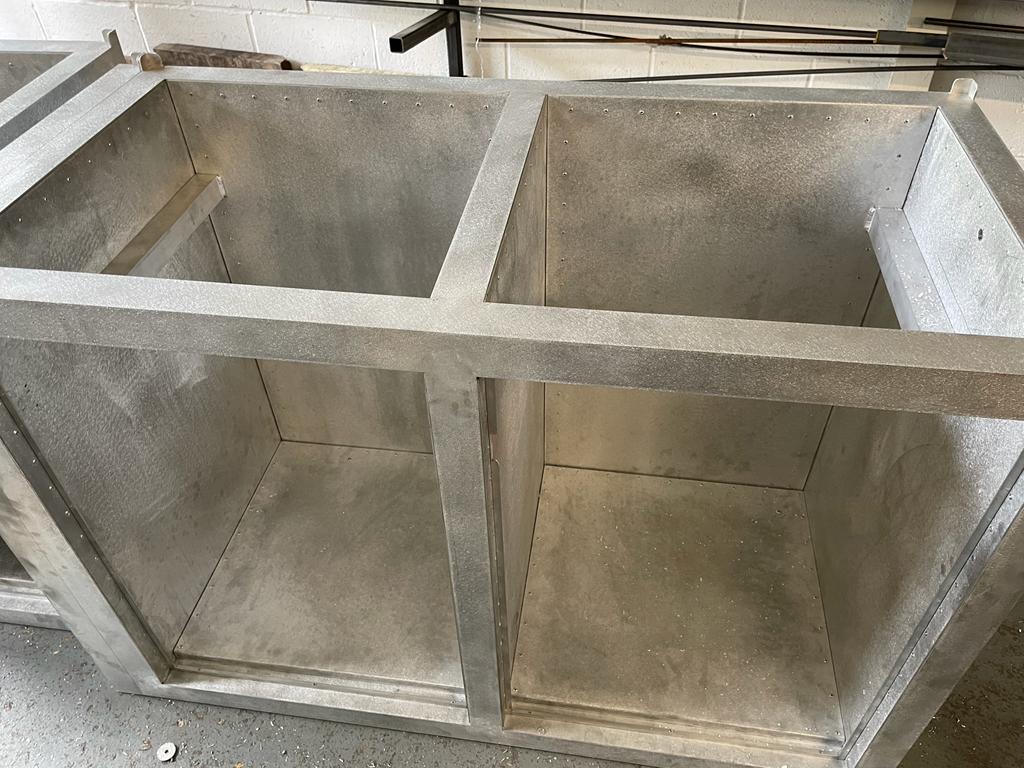 Before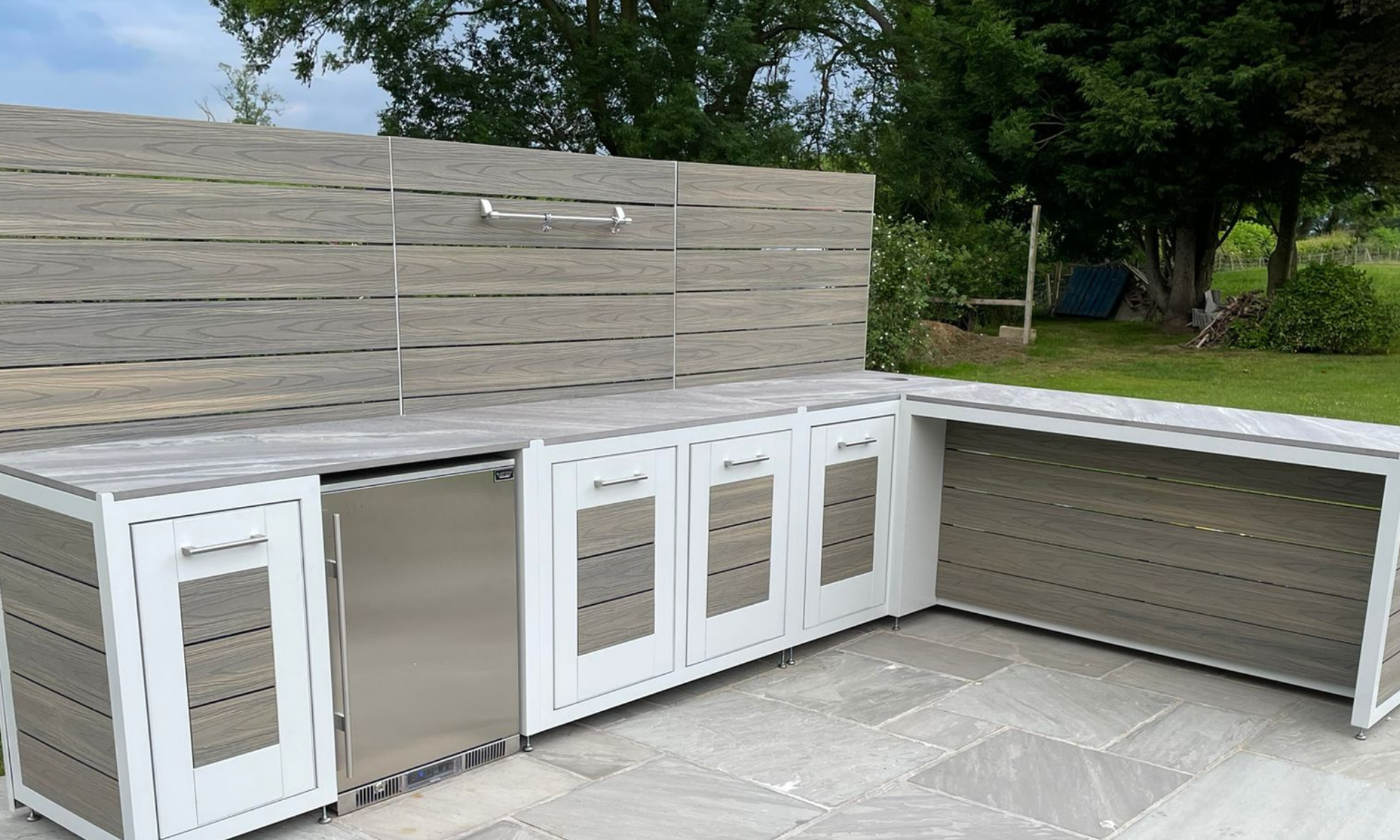 After
Why choose The Outdoor Kitchen Company?
Features
Predesigned
You can choose from predesigned set-ups, or we can design you a kitchen from scratch, completely unique to you!
Customisation Options
The colour of the frame (RAL), 6 panelling colours and choice of worktop colour and material.
Appliance Choice
Fridge / Kamado Grill / Integrated Grills / Pizza Ovens/ sinks / ice buckets... the list is endless.
Frame Material
Extruded Aluminium. Rust Free & hardwearing
Guarantee
10 Year anti-rot and anti- splinter guarantee on the panelling and a 5 year guarantee on the frame.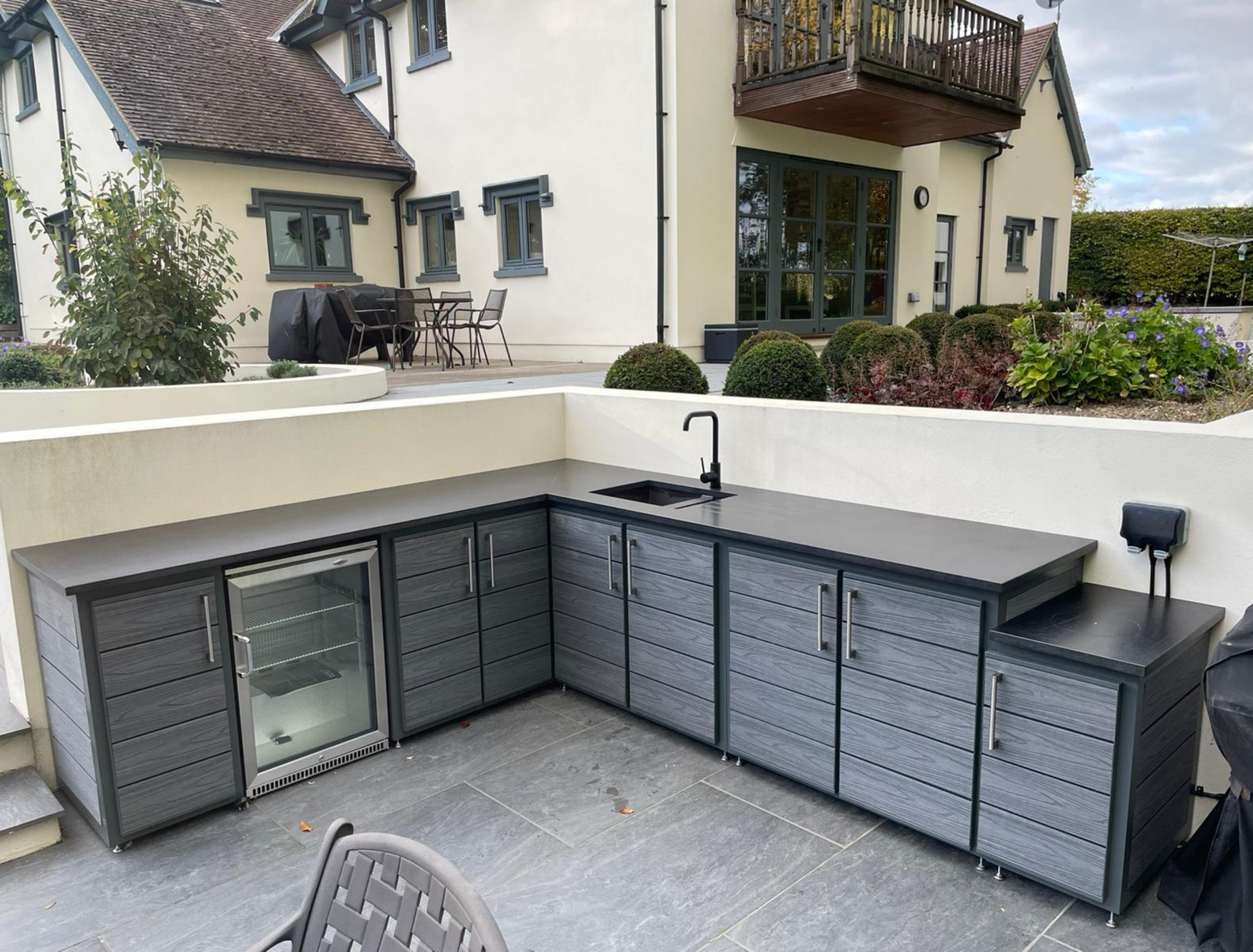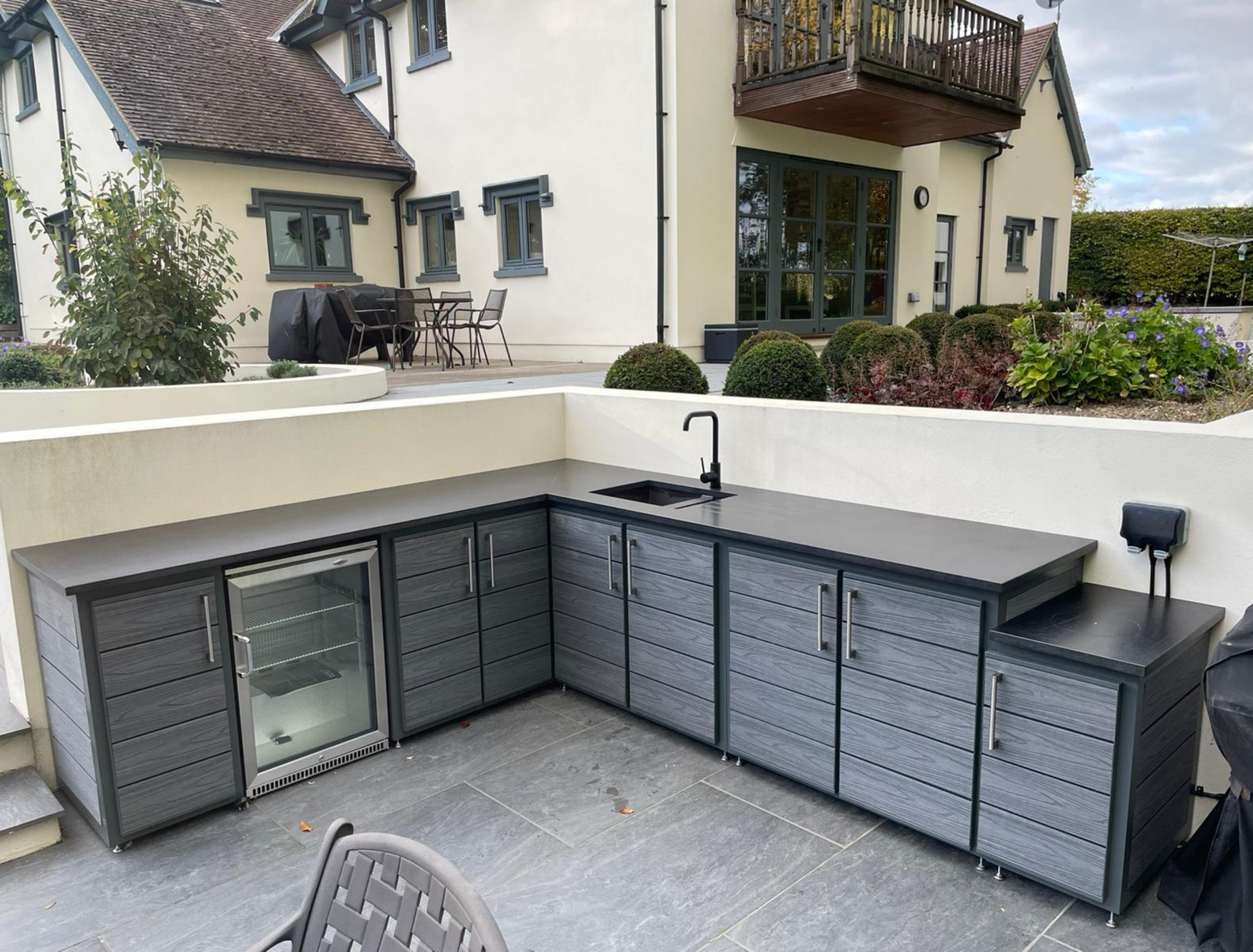 BlastCool Fridge
Share useful information about your product features.
Under Mount Sink
Black sink, undermounted to create a sleek and polished finish.
Integrated Bin Unit
A hidden integrated bin unit, for the ultimate neatness & functionality
Slate Panelling
Slate panelling. Our panelling is made from 75% recycled wood
Worktop
Zimbabwe Black worktop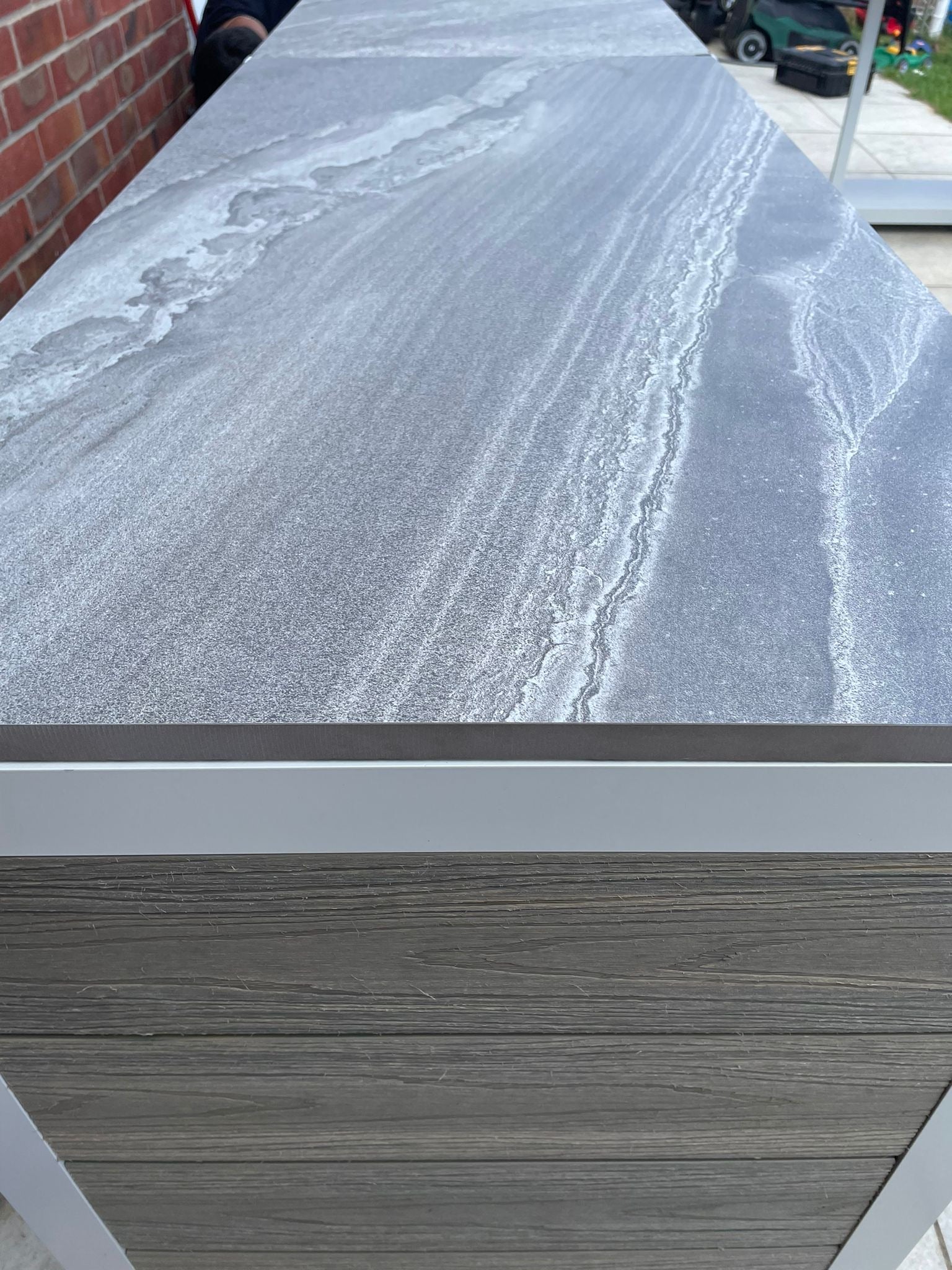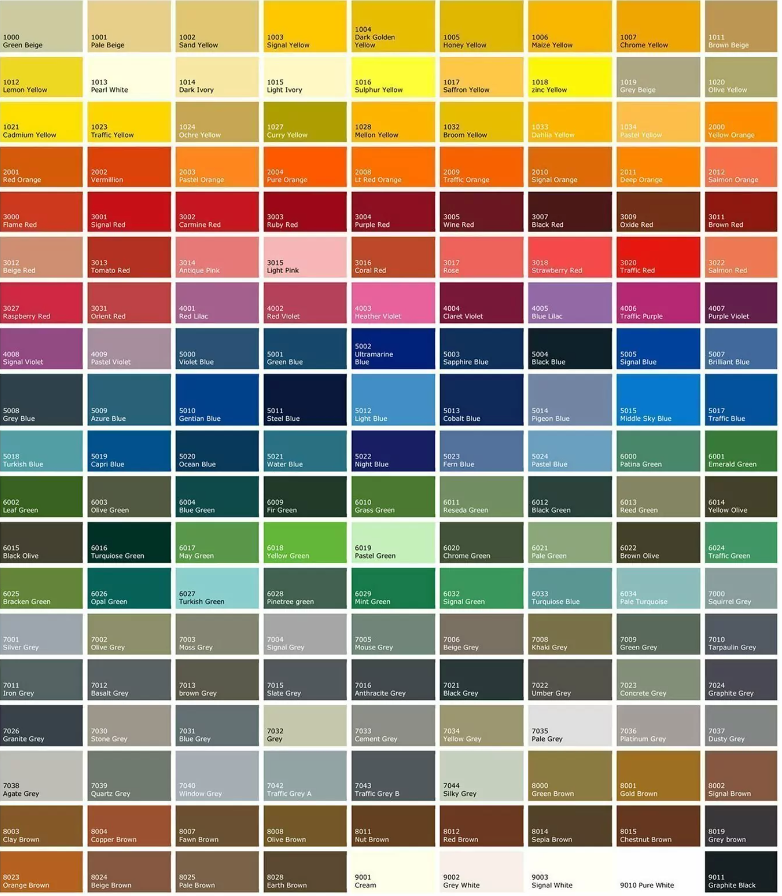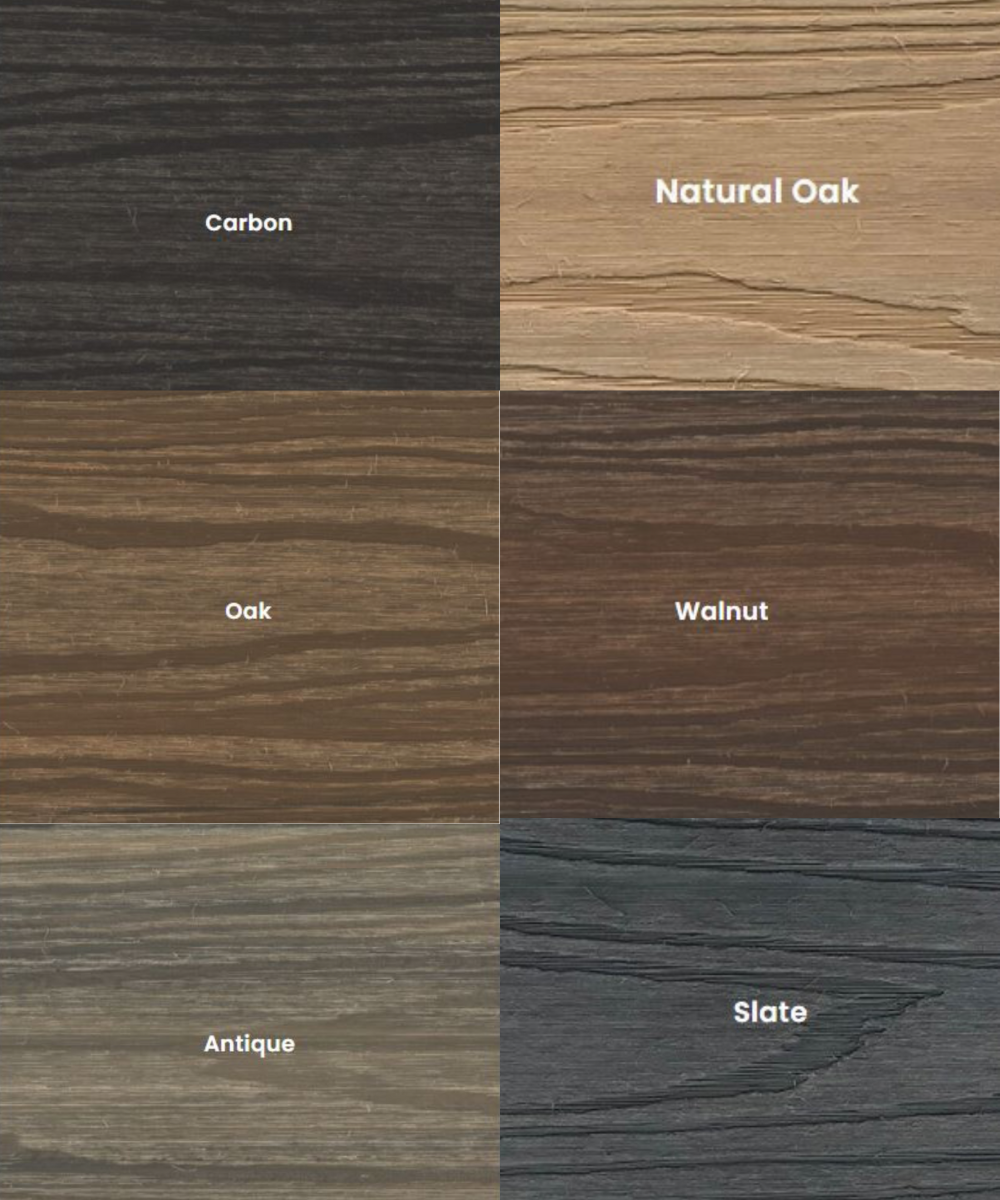 Panelling Choices
Our composite panelling is made from 75% recycled wood. You can choose from 6 colours to compliment or contrast your frame. It requires no annual upkeep and we include a 10 year anti-rot and anti-splinter warranty.
More about our panelling
The Frame
Our frames are made from extrued alumiunium. Infinetely recyclable, it can be melted & reused for an endless amount of applications. It also has one of the strongest strength-to-weight rations. It's then powder coated in your choice of colour, chosen from the full spectrum of RAL colours.
More about the frame
The Worktop
Choose from porcelein, granite or Quartz (NEW!) worktops in an endless choice of colours. All of the worktops we supply are fully UV stable and resistant to sub-zero conditions.
More about the worktop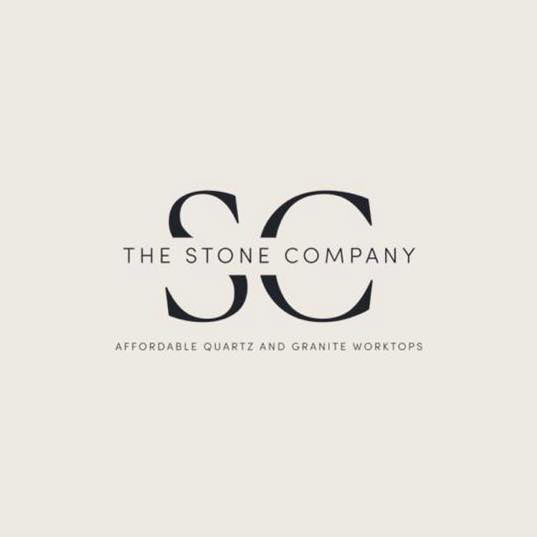 Our Partner
We're proudly partnering with The Stone Company to bring you the best quality worktops. The Stone Company are a fantastic business to work with, bringing expertse, professionalism and a beautiful range of worktop choices.
Our Partners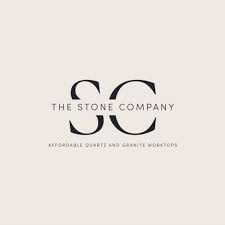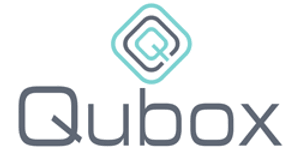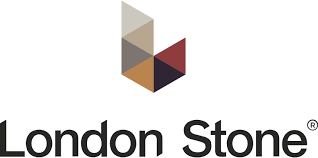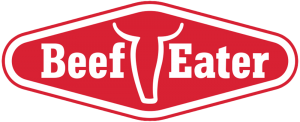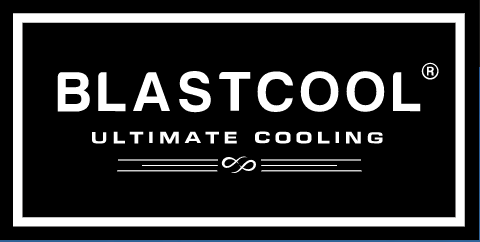 FAQ
Browse our range Frequently Asked Questions below, or get in touch hello@outdoorkitchenco.co.uk
Our operating hours are 8am- 5pm Monday- Saturday
We'll aim to get back to you within 12 hours
Choose whether you'd like a modular design kitchen, or a fully bespoke option. If you would like a fully bespoke design, the first step is to book a call with us and we'll discuss your requirements. If you would like to order a predesigned kitchen, simple shop here and add it to your basket.
If you're ordering one of the predesigned kitchens, simply add to your basket and check out. If you're ordering a bespoke kitchen, we take 50% payment upon design confirmation and 50% upon installation.
How much is delivery & installation?

Delivery of your kitchen and full installation is included in the price!
Does the kitchen need maintenance?

We use fully sustainable & recyclable materials in all of our designs. A key part of this design is the use of wood composite cladding. The wood cladding does not need any treatment or maintenance. Simply wipe down the wood with a wet cloth every now and again to prevent dust/outside dirt from building up.

The composite cladding comes with a 10 year anti-rot and anti-splinter guarantee.
Do I need groundworks for this kitchen to be installed?

All of our kitchens are free standing, meaning no groundworks are required. All we require is a level ground such as a patio or decking
Do you work with landscapers?

Yes! We are more than happy to coordinate with your landscaper to ensure our kitchen is planned for in your garden design. If you are ordering a bespoke kitchen, we can also be involved in the planning stage to really enhance the look of our kitchen in your garden. 
If you order one of our bespoke kitchens, we will either arrange to visit your home (within 40 miles of Buntingford, Hertfordshire), or we will conduct a zoom video call to fully discuss your kitchen. 

We also offer a free no obligation video call if you'd like to discuss our kitchens. 
Our operating hours are 8am- 5pm Monday- Saturday
We'll aim to get back to you within 12 hours