Our Kitchens
Every kitchen we design is hand-built in England, by our team in our workshop in Hertfordshire.
Our design consists of three main elements: a strong, weatherproof frame; beautiful panelling in a choice of colours and stunning worktops. Combine that with a range of sleek appliances and you have an Outdoor Kitchen Company kitchen.
Learn more about our Frame, Panelling, Worktops and Applicances below or get in touch hello@outdoorkitchenco.co.uk / 01763 788228 to get planning your kitchen.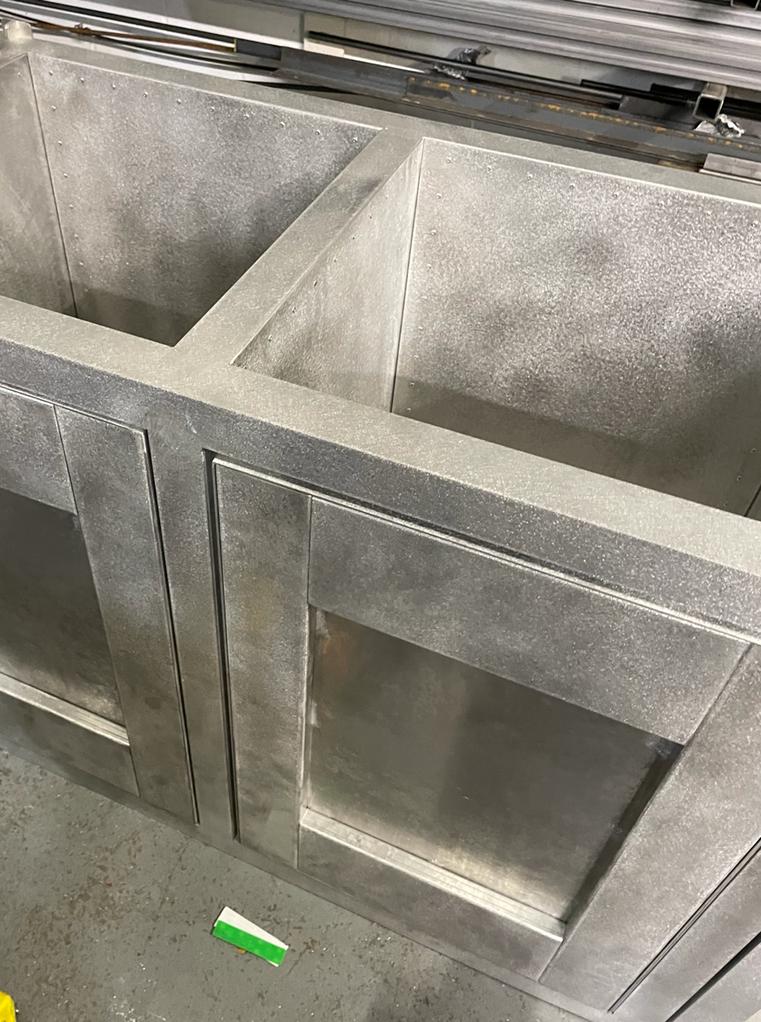 The Frame
At the heart of our kitchen design is extruded aluminium. Infinitely recyclable, weatherproof and rust-proof, its the perfect choice for our kitchens.
Unlike other materials often used in outdoor kitchens that wear over time and rust, our frames will stand the test of time. They're also one of the strongest metals, making it ideal for outdoor kitchens.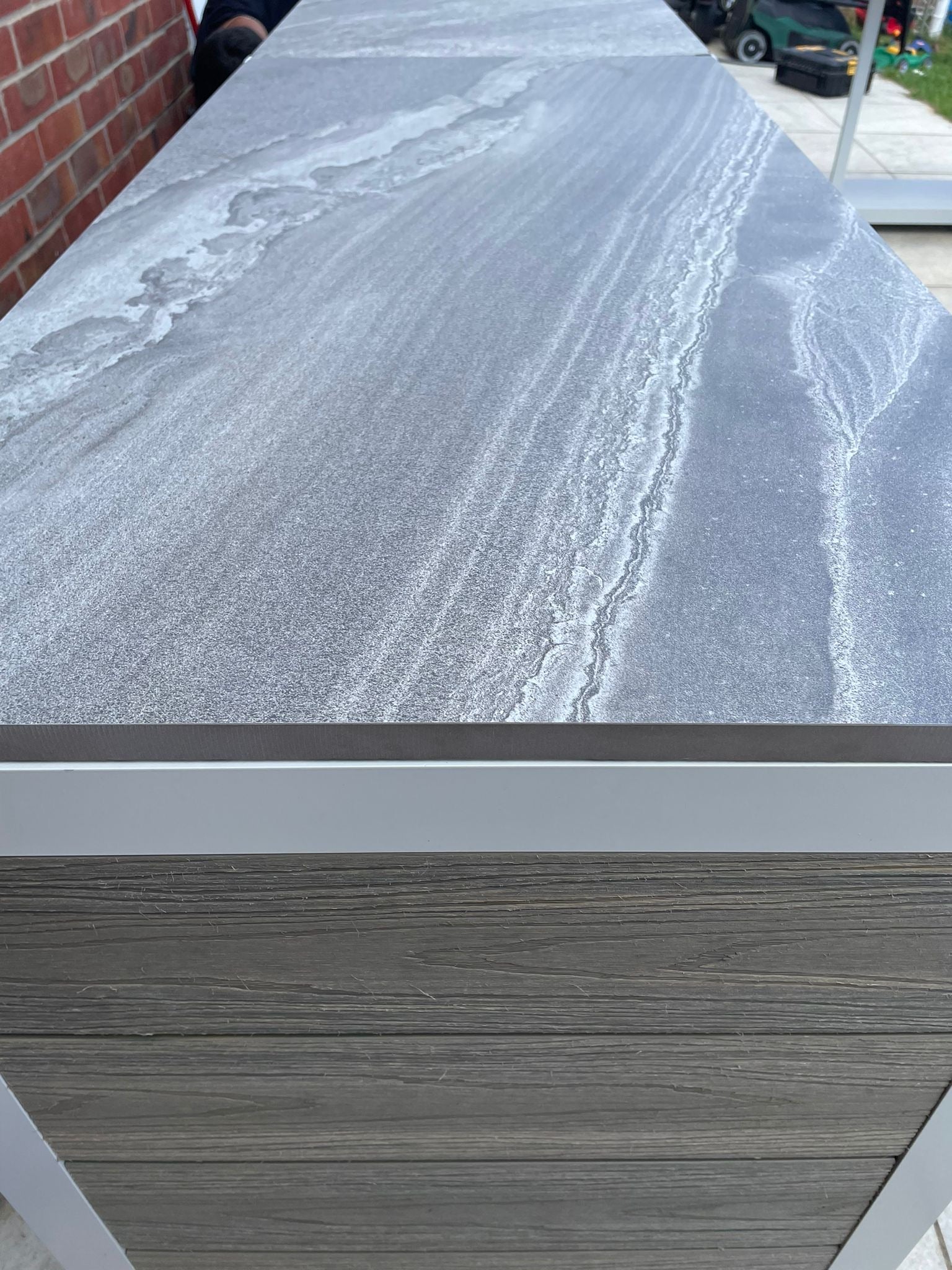 The Worktops
Outdoor kitchen worktops are entirely different from indoor variants due to the need to be fully UV stable and resistant to sub-zero conditions. Aka they need to be able to handle the British weather without fading or cracking.
We offer three main types of worktop, all which meet the above criteria:
- Porcelain
- Granite
- Quartz (New!)
We work in partnership with The Stone Company, based in Bishops Stortford to provide and install the worktop. Expertley fitted and with hundreds of colours and finishes to choose from, the worktop really adds something special to our kitchens.
On selected kitchens, we include a detachable section of worktop that enables a supply pipe to be connected to the gas cylinder discretely when appliances are in use. 
Our Panelling
A key design feature of our kitchens is our beautiful panelling. Comprising of 75% recycled wood flour and recycled plastic, the composite panelling provides a stunning and sustainable alternative to wood.
Select from the following colours to contrast or compliment your frame:
Oak
Carbon
Antique
Slate
Natural oak
Walnut
A key feature of our boards is that they are UV stable and are fully anti-rot and anti-splinter and are of a wipe clean design. This means minimal upkeep and maintenance for you. We offer 10 year anti-rot and anti-splinter guarantee on all our kitchens.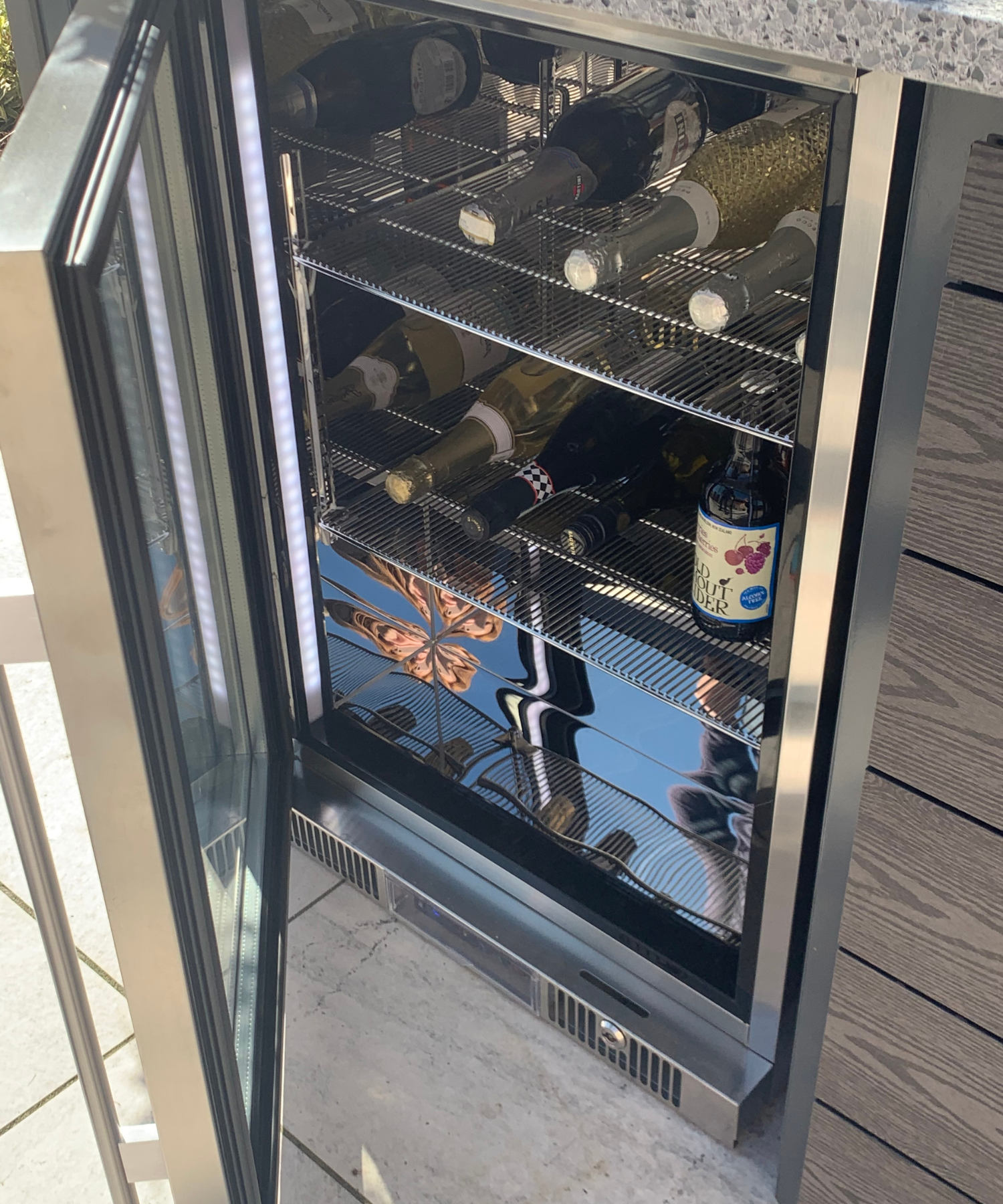 Appliances
Outdoor fridge: We offer the Blastcool Extremis XP1 fridge with our kitchens. This stylish fridge is rated for outdoor use, and the XP1 uses the latest energy saving technologies.
Pizza Ovens: Our kitchens are designed to work with all portable worktop based pizza ovens and wood fired ovens. Get in touch to discuss the different options available to you. 
Kamado Grill: We have collaborated with UK company Podd Grills to offer the versatile Big Podd grill. The kamado enables you to grill and smoke and can reach temperatures of up to 1000 Degrees Celcius. The Podd is built to last and includes a 5 year warranty on ceramic parts. 
Integrated gas grill: We have collaborated with UK company Whistler Grills to incorporate the premium 4-burner gas grill, the Burford 4, into selected kitchens. Whistler Grills are built to last generations and offer a lifetime warranty on selected components.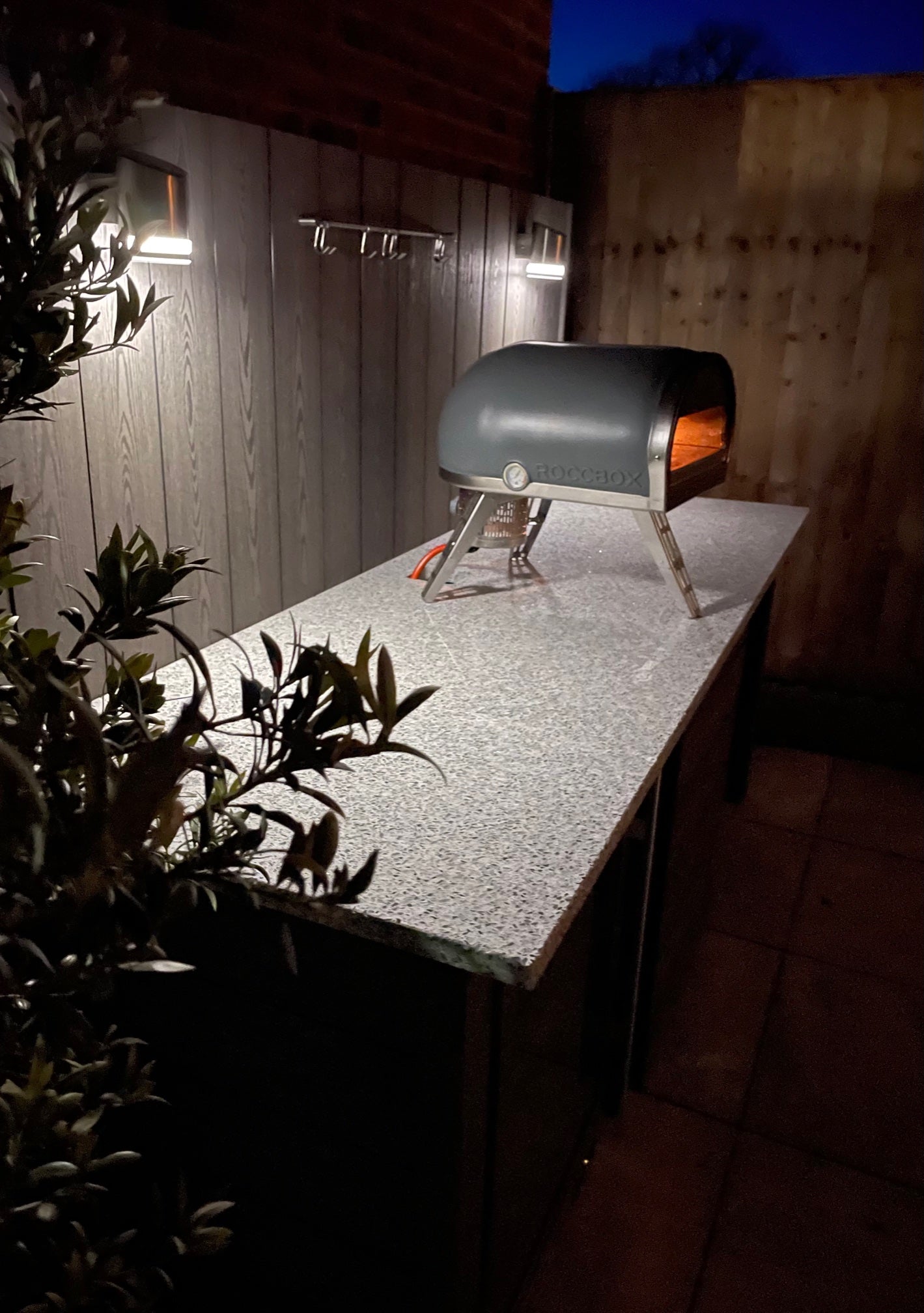 Extras
At The Outdoor Kitchen Company, we design a kitchen that works for you, and that means supplying extras which mean you can get the most out of your kitchen.
From solar lighting, utensil racking, ice buckets, wine coolers, hidden plug sockets, bin units, drawers... the options are endless. When we discuss your kitchen, we'll take you through the options available.