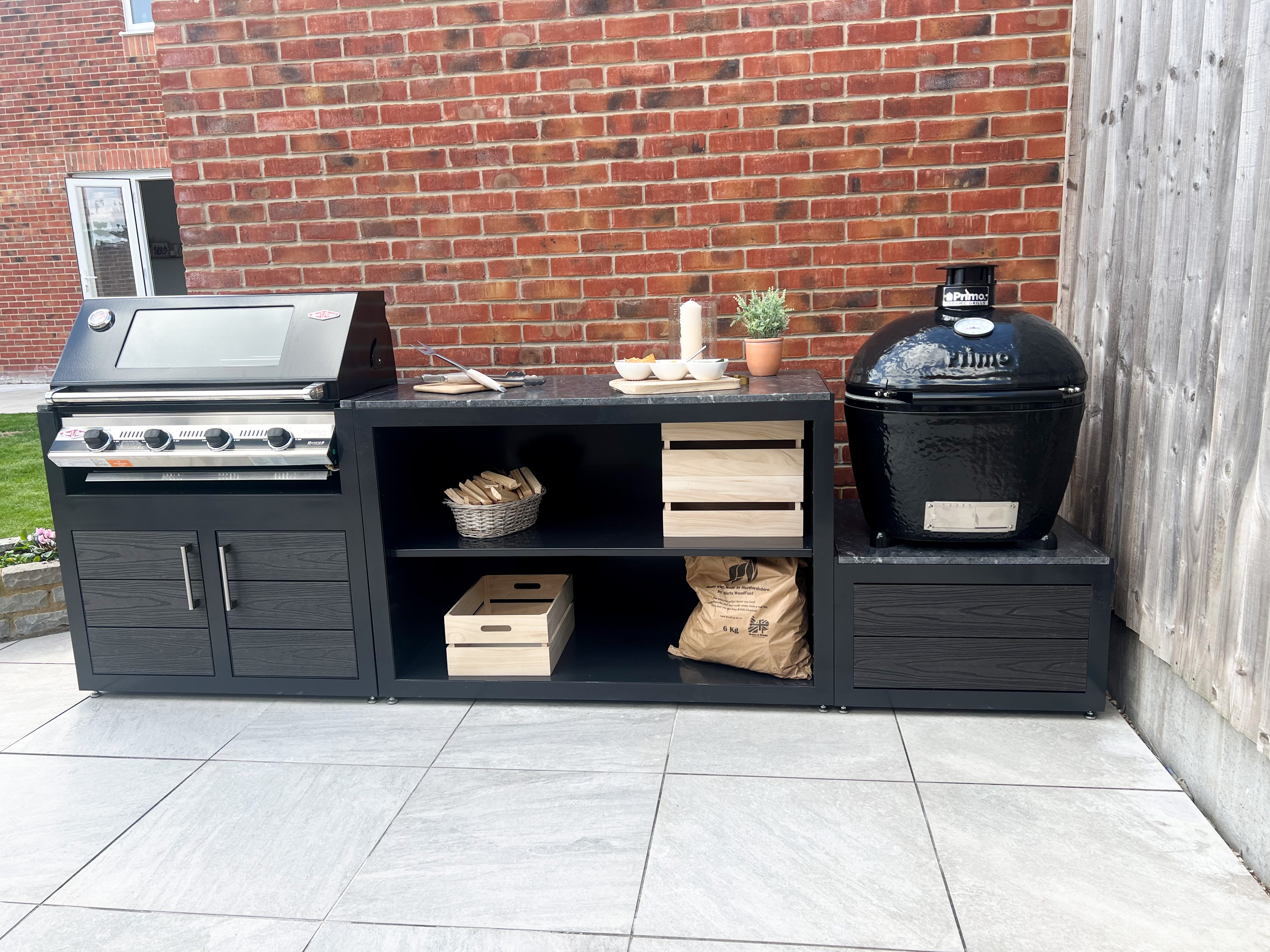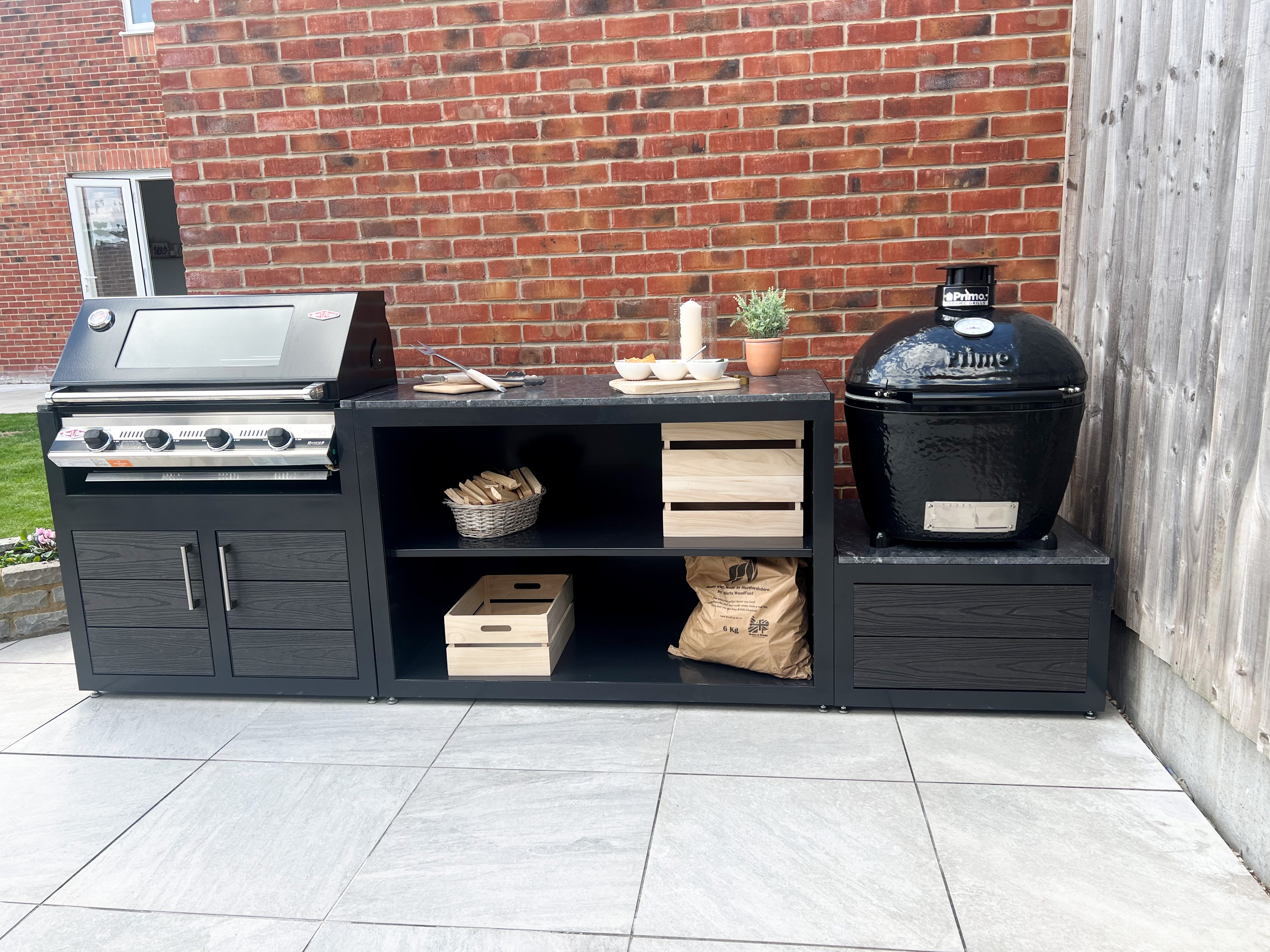 The Modular Outdoor Kitchen
Our Modular Outdoor Kitchens
We're redefining the modular outdoor kitchen by bringing together style with expert engineering.
Choose from our range of standalone modules to create your perfect outdoor kitchen, or select one of our pre-configured set-ups.
Every kitchen we design is hand-built in England, by our team in our workshop in Hertfordshire.
Our modular design consists of three main elements:
Strong, weatherproof Aluminium frame
Beautiful panelling in a choice of colours
Granite worktop
Explore the design further below, and order your kitchen here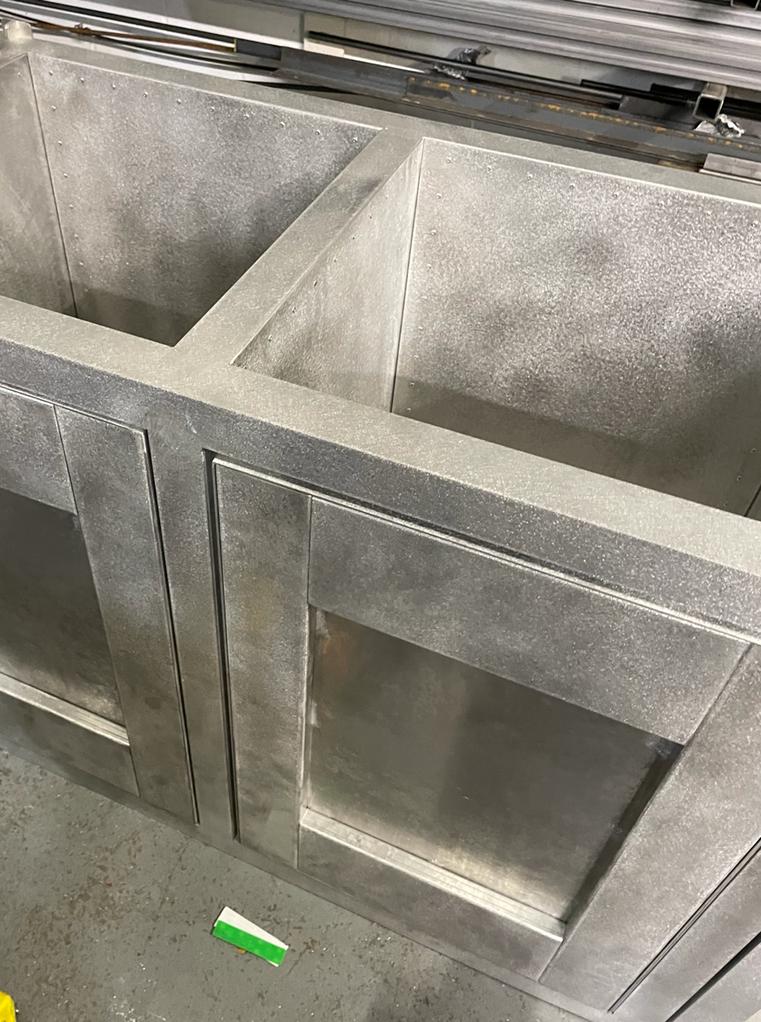 The Frame
At the heart of our modular kitchen design is extruded aluminium. Infinitely recyclable, weatherproof and rust-proof, its the perfect choice for our kitchens.
Unlike other materials often used in outdoor kitchens that wear over time and rust, our frames will stand the test of time. They're also one of the strongest metals, making it ideal for outdoor kitchens.
You can choose ANY colour frame for your kitchen from the RAL colour chart- included in the price
The Worktops
Outdoor kitchen worktops are entirely different from indoor variants due to the need to be fully UV stable and resistant to sub-zero conditions. Aka they need to be able to handle the British weather without fading or cracking.
Our modular kitchen consists of a Granite worktop, in Black Forest* Granite is the perfect worktop for outdoor kitchens. It's sturdy, durable and UV stable, as well as looking beautiful.
The worktop slots into the frame of each module to create a seamless finish.
* Colour upgrade of worktop is POA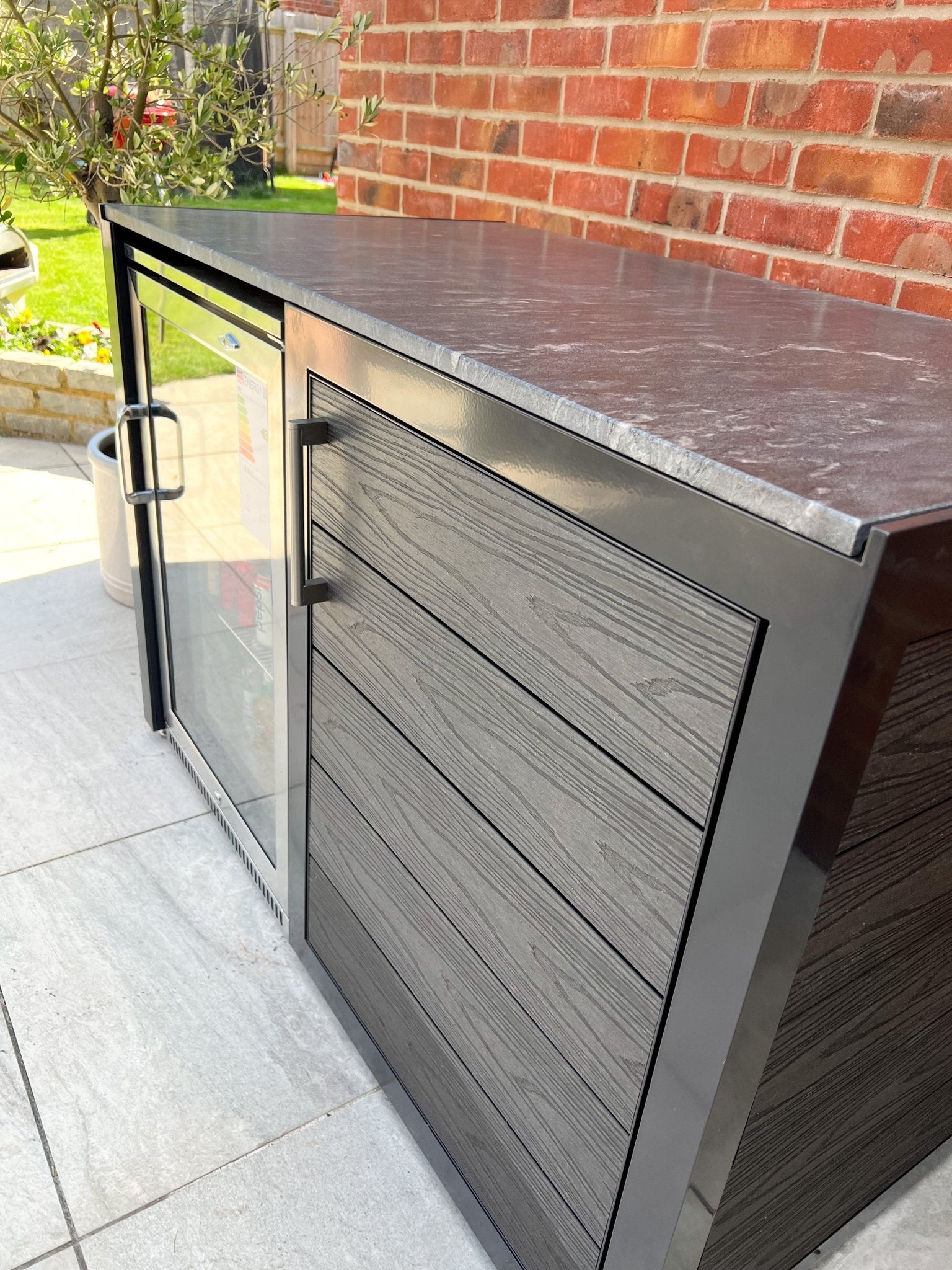 Our Panelling
A key design feature of our kitchens is our beautiful panelling. Comprising of 75% recycled wood flour and recycled plastic, the composite panelling provides a stunning and sustainable alternative to wood.
Select from the following colours to contrast or compliment your modular frame:
Oak
Carbon
Antique
Slate
Natural oak
Walnut
A key feature of our boards is that they are UV stable and are fully anti-rot and anti-splinter and are of a wipe clean design. This means minimal upkeep and maintenance for you. We offer 10 year anti-rot and anti-splinter guarantee on all our kitchens.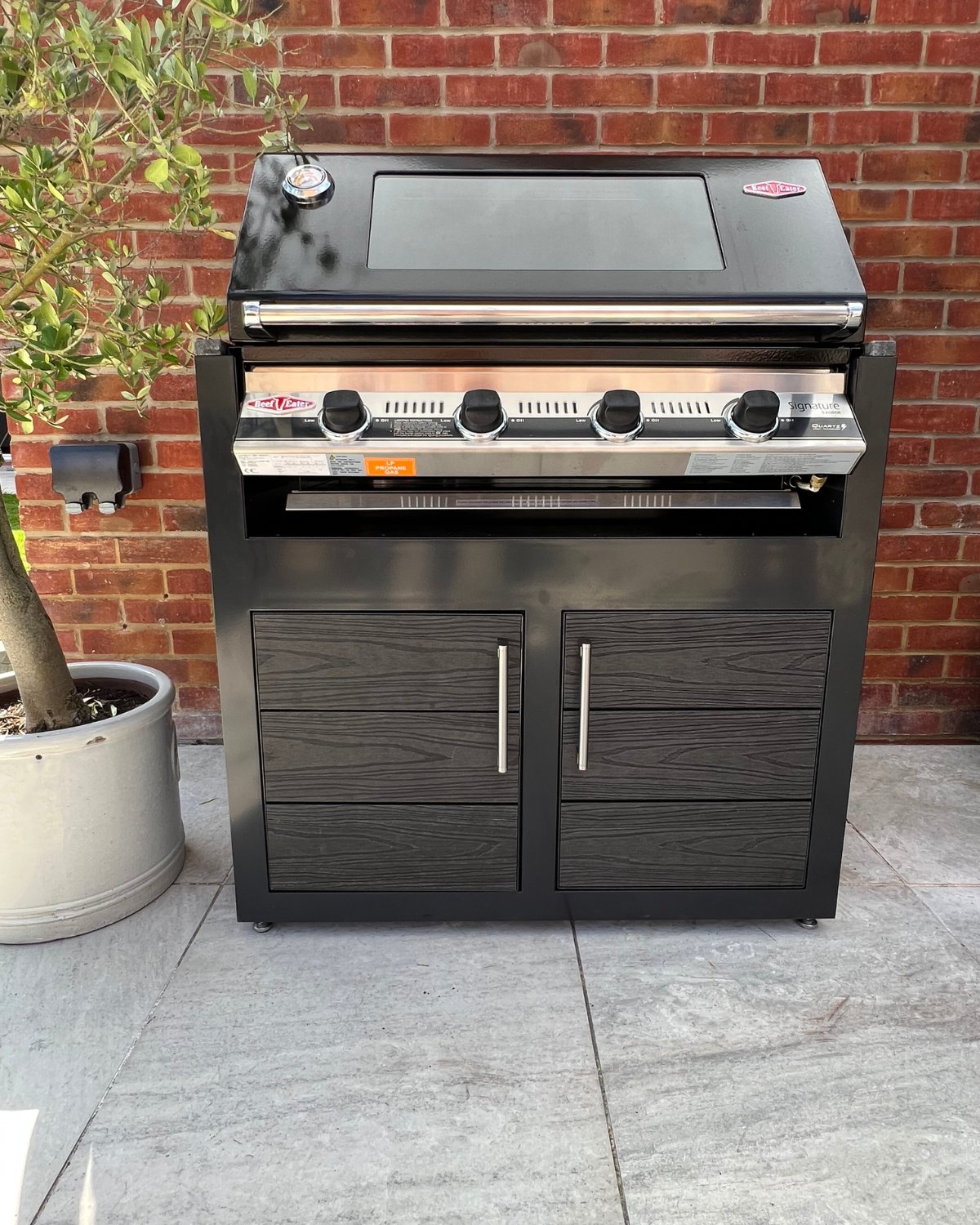 Appliances
We offer a range of modules, designed to accomadate a variety of appliances. Please see details below
Outdoor fridge: We have a fridge & shelving module which includes the Beefeater 90L single door fridge. You can order the module with or without the fridge.
Pizza Ovens: Our kitchens are designed to work with all portable worktop based pizza ovens and wood fired ovens. Get in touch to discuss the different options available to you. 
Kamado Grill: Our Kamado stand module fits most Kamado/Eggs. We have collaborated with Primo to offer their versatile Grill range. The kamado enables you to grill and smoke and can reach temperatures of up to 1000 Degrees Celcius. You can order the Kamado stand with or without the Primo.
Integrated gas grill: We have collaborated with Beefeater to incorporate the premium 4-burner gas grill into the BBQ module. You can order the module with or without the BBQ.
Other appliances: If you have other appliance requirements, give us a call on 01763 788 228 to discuss as the modular kitchen may be able to accomodate them. We can also discuss our Bespoke Service for more turn-key solutions.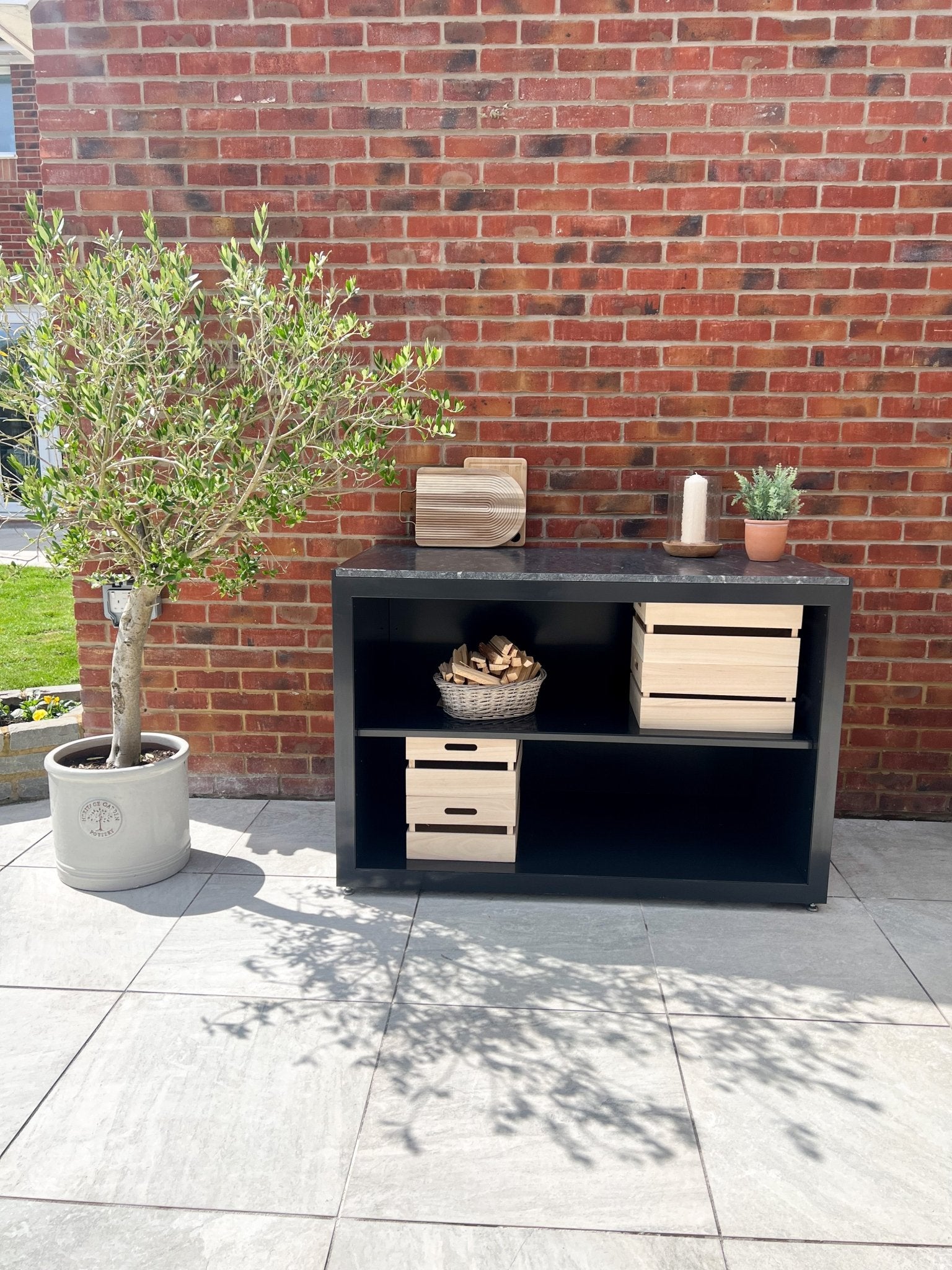 Delivery & Installation
Delivery of the modular outdoor kitchen costs £495 and includes full white glove delivery & installation. We will set-up your kitchen fully, ready to use!
Order Now