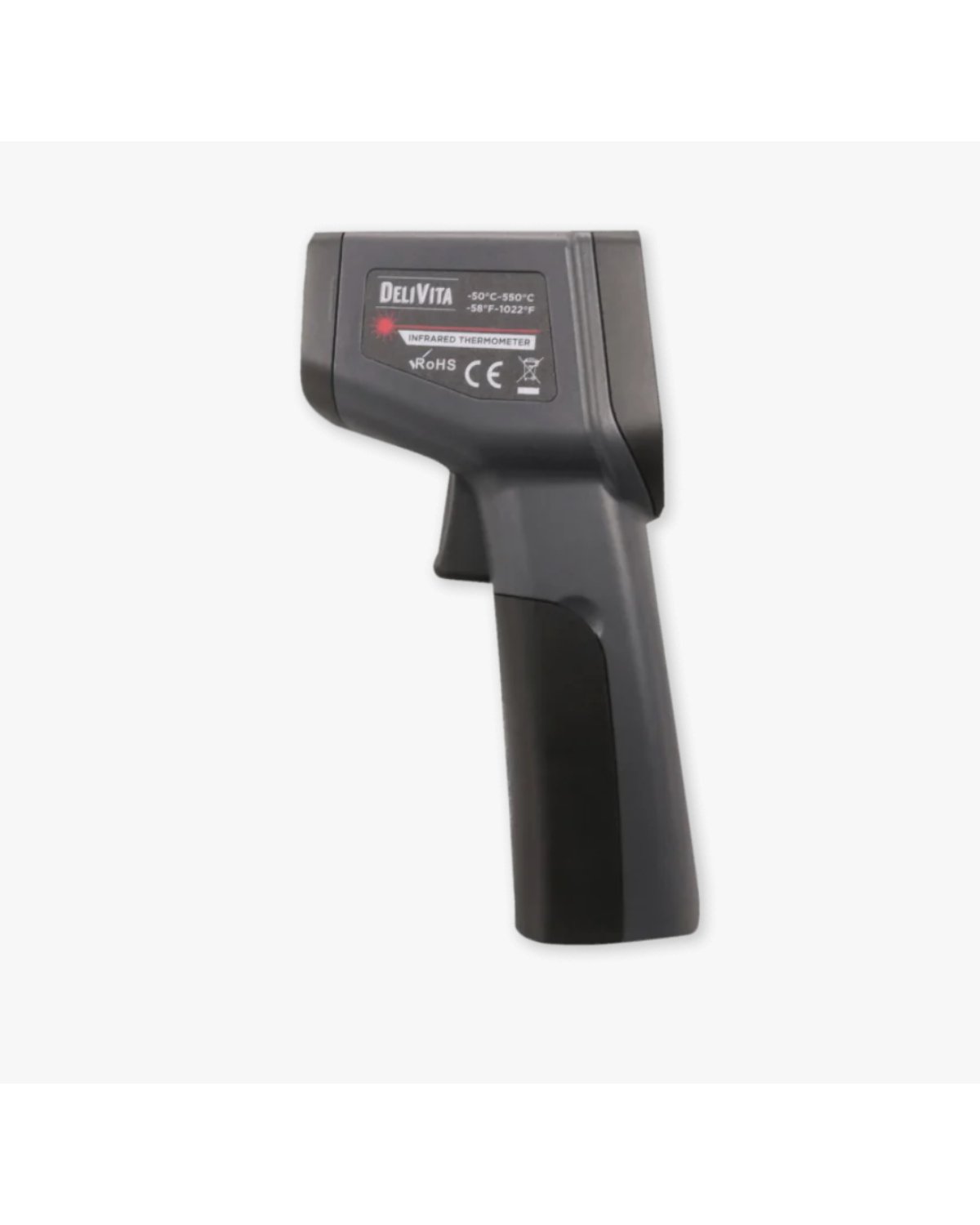 Delivita Infared Gun
The digital infrared thermometer -50°C to 420°C (-58°F to 788°F). Non-contact laser temperature gun, recommended for your wood-fired oven.
Professional and multifunction – It has a wide range from -50°C to 420°C (-58°F to 788°F). The non-contact thermometer helps you know the surface temperature quickly, if the temperature reading is out of range, the LCD display screen will show 'LO', effectively eliminating the harmful burns or mild frostbite potential risks.
Accurate measurement – The laser sight is handy to have to get an accurate reading on a particular area, Simply point and pull the trigger and you get the accurate temperature reading on the screen, for a simple point and click optical IR thermometer this can be surprisingly accurate.
Safety and use – The A530 is in accordance with FDA, FCC, CE, ROHS standard.It is great for checking oven/pan temperatures, the heat of food, the temperature of sugar when making caramel, nougat and marshmallows. It is also perfect for cooking in a wood-fired pizza oven.
Non-Contact measure extreme temperatures ranging from -50°C to 420°C (-58°F to 788°F).It eliminates the potential danger of harmful burns or minor frostbite
The Maximum/Minimum value indication tells you the measurement of maximum/minimum temperature value (Click on the Mode button)
Emissivity setting function can match the emissivity of the thermometer to the object's emissivity which makes the measurement data more accurate
Automatically shuts down & Measurement unit switching (° C or ° F) & Data-Hold feature (store up to 32 readings in memory) & backlight function & low battery warning.
Backlight and lasers can be turned on and off independently.
Colour: black and red
Material: plastic
Batteries required? Yes
Batteries included? Yes
---